A Buyer's Guide to Finding the Best IT Asset Management (ITAM) Software
As you begin to consider the deployment of IT Asset Management (ITAM) Software within your business, it's important to understand which ITAM tool is best suited for your IT workflows. Whether that be managing software licenses, tracking IT hardware, or improving network security. In this complete and extensive guide to IT management software, we'll cover: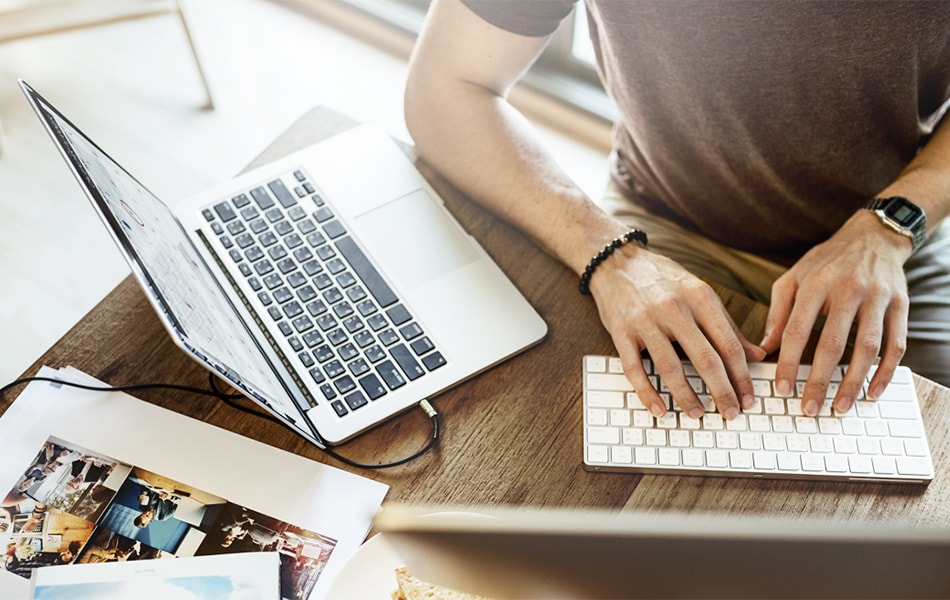 What Is IT Asset Management (ITAM) Software?
In its simplest form, IT Asset Management (ITAM) is the process of creating an IT asset register for all of your hardware and software IT inventory. This is why IT management software is sometimes referred to as IT inventory management.
By tracking and collected data regarding your IT assets, you can build a complete database of your organisation's entire IT asset inventory. IT assets can consist of:
On-premise software tools

Cloud-based software apps

Computers

Desktops

Monitors

Smartphones/Mobiles/Tablets

Telephones

Routers and servers
By monitoring all IT assets moving in and out of your organisation, you're able to effectively manage the life cycle of each asset. The management of an IT asset's life cycle starts at planning and goes through to purchase, deployment, maintaining, and eventually retirement. This detailed monitoring process allows you to make the right financial, tactical, and strategical decisions that are going to benefit the business. Businesses that focus on the life cycle management of their IT assets generally reduce their cost per asset by as much as 30% in the first year.
The understanding of an IT asset management software solution can be broken down into three different standpoints; data, technical, and terminology.
ITAM From a Data Standpoint
An IT Asset Management software tool will record all of your IT Inventory metadata. This is the core data that identifies and individualises each asset. Examples of metadata include:
Serial number

Software version

User name

Employee ID

Purchase date

Project allocation

Service allocation

Service Instance

Location
ITAM From a Technical Standpoint
IT Management is the technical process of:
Discovering assets using an agent or agent-less discovery options

Mapping end-points and software applications to location and users

Monitoring and safeguarding your LAN/WAN environments

Managing entitlements

Securing your network against unidentified cyber intrusion
ITAM From an IT Terminology Standpoint
IT asset management software can relate to a number of different processes, such as:
Network Management

Systems Management

IT Security

Database Management

Application Management

IT Inventory management
How Can ITAM Software Improve the Management of IT Assets?
IT asset management is a process that changes and evolves along with your IT needs. IT Asset Management Software helps you to define your ITAM process, standardise it, and then evolve it with your IT needs.
It's important to note that your definitions of managing your organisation's IT Inventory can change rapidly. They depend on:
The number of on-premise and cloud-based assets

Hardware (desktops, laptops, mobiles, servers) access to your employees

Projects and services that your business provides

Cyber risk of your company
Without the use of ITAM software, your IT asset management processes become overwhelming and, as a result, begin to suffer. For example, you may be using outdated methods such as pen-and-paper or spreadsheets to organise your IT assets. If you have more than 50 employees, then keeping an accurate record of your IT inventory using spreadsheets often leads to missed renewal and entitlement opportunities. Whereas an IT asset management software tool helps IT teams to quickly know the location, status, usage, and user of each of assets.
As well as replacing the need for spreadsheets, ITAM software can solve many other inventory-related problems in the workplace. Including:
Creating rules to manage IT Inventory that is personalised and configured to your IT needs

Providing clarity on location, status, usage, and users of all your IT Assets

Helping to safeguard your hardware and software inventory, reducing cyber risks

Reducing total cost of ownership of your IT Inventory

Tracking compliance adherence

Providing data for audit management scenarios
Software

Software assets consist of computer programmes and operational information used in IT systems. Using an ITAM tool to manage software can be beneficial in a number of ways, such as:

Automated software updates that improve safety and make sure security standards are met

Allows you to have an accurate record of all software in one system

Correct and accurate licence management of all software

Integration with procurement systems to have the ability to order and request software products

Effective asset life cycle management that can lead to efficient forecast spending to dispose of or replace assets

Hardware

Along with software, hardware is also an important asset in an IT setting. Hardware assets consist of machines, wiring and other physical components of a computer or electronic system.

Hardware can also fall under traditional asset management solutions that can monitor and track physical items.

However, using an effective tool to manage hardware assets can be beneficial in a number of ways:

Modern solutions enable you to track and monitor IT hardware

A management system can reduce the number of hardware assets being lost, stolen or misplaced

Lets you manage maintenance and effectively plan for replacements once an asset reaches the end of its life cycle

Offers accurate hardware license management to avoid under-licensing and over-licensing issues

Significantly improve the process of auditing and compliance

Effective asset life cycle management that can lead to efficient forecast spending to dispose of or replace assets

Mobile and Tablet Devices

A modern IT Asset Management tool can often be managed on-the-go using a mobile or tablet device. This can be extremely efficient when monitoring physical assets across multiple sites or by different teams.

With an increase in the use of mobile phones and tablets in the workplace, asset management is an effective solution to managing these portable devices:

It can allow you to manage an entire inventory of devices in one centralised system

Asset management can deploy preconfigured WI-FI and email settings, where devices have the capability

You can create, assign and modify device policies

Enforce and manage security settings such as access, data security and passwords

View and manage apps installed across all devices

Cloud

Cloud asset management is the management of cloud applications, platforms and infrastructure. As opposed to the management of physical or digital assets on a cloud-based system.

It's predicted that over 80% of IT budgets will be committed to Cloud applications and solutions in the future, so this is now a fundamental group of any ITAM tool.

With this in mind, most asset management systems have standardised the feature of cloud asset management. This feature can offer a vast range of benefits for any business:

Effectively manage digital assets stored on cloud databases

Monitor the condition and uptake of cloud services and coverage

Instant and full access to subscriptions and usage data

Manage the current budget of cloud activity and forecast future spending

Allows for improved security and assurance of cloud assets
What Are the Benefits of IT Management Software?
Implementing the best ITAM software into any organisation can offer a range of benefits when it comes to enhancing IT asset processes. The top five benefits of IT asset management software, include:
Providing Continuous and Accurate Discovery of Your IT Inventory

Very few IT teams have an accurate view of their IT Inventory on their Local Area Network (LAN). And, if you have offices in multiple locations, then you have multiple LAN's. Which compounds this problem.

One way to identify your IT Assets, without the use of ITAM software, is to work with your procurement department and get an export of all assets that have purchased. However, one problem with this approach is that most vendors do not provide network-identifiable details within invoices. So, developing an IT Asset Register using data from procurement can be challenging. If you also have more than 50 IT assets to register, then using a spreadsheet-based method can become an issue.

When building an IT asset register, it's important to note that metadata regarding your IT Inventory can change frequently. For example:

Software versions change after updates

Patch details change

Employees leave so their data needs to be stored for their replacement

New joiners need to get their IT Inventory on time

Software patches can change metadata

Hardware renewals

Instance Server Changes

But, that's where IT asset management software can help. Asset discovery capability enables IT managers to continuously and accurately get an insight into their IT Inventory on their LAN network.

Providing an On-Demand and Data-Accurate IT Asset Register

Listing an asset on your network is only one part of the equation. But, there are areas for improvement regarding the data you can collect about each asset. With ITAM software, you can build an asset register full of efficient data. This allows your IT teams to know:

Who is using your IT inventory?

When was an IT Asset bought?

What is the renewal date for software licenses?

Are the IT Assets related to a project or a service or a department?

IT Asset Management Software also provides a flexible yet personalised framework for your business. For example:

ITAM tools provide clarity on hardware and software apps by users, location, and department

ITAM software records license renewal dates by location, department, and criticality

It can help you to tag your hardware inventory with barcodes, QR Codes, or NFC's so that you can keep track of costly hardware assets

Defining and Maintaining Dynamic Relationships Between IT Assets and Employees

The fundamental idea behind using IT asset management software instead of spreadsheets is that ITAM allows you to define and maintain dynamic relationships between your IT Assets, workflows, and employees. This can sometimes be referred to as CMDB (Configuration Management Database).

The word dynamic is important and very deep. It highlights the difference in how you deal with IT inventory for C-level employees, managers, and associates. In fact, you'll need a different configuration for each of these types of employees.

For example, your support team may require two monitors but your sales team may only require one. Whereas your remote employees may require VPN or Cloud-based access to store data on your server.

Reducing the Cost of IT Ecosystems With Reporting Tools and KPIs

Once you know the users and usage time of your software and hardware inventory, it is then easy to optimise the costs of your IT Ecosystem. For example, you can combine renewals of your software licenses and get volume-driven discounts from vendors.

You can also be proactive with your procurement activities, such as reviewing alternative products and services well before your current IT Assets come up for renewal. As well as reducing the number of software licenses you need, just by knowing your usage levels.

Altogether, if your IT asset management software is implemented correctly, you should be able to see a reduction of 10% to 30% of your IT costs.

Offering Effective Compliance and Audit Management Tools

Microsoft, SAP, Oracle, Adobe, and almost all medium-to-large software vendors routinely audit the license conditions of their software usage. By using network-based monitoring tools, software companies can identify how their licenses are being used. IT teams, therefore, need to know who is using their software licenses and how.

The right ITAM solution will allow you to review your software licences by usage and users, which makes IT teams aware of the compliance adherence with their contractual agreements.
7 Typical Features Found in IT Asset Management Software
Most ITAM solutions have similar software features, though some may be more complex than others. In general, to achieve complete efficiency from an ITAM system, the following features are highly sought-after.
Asset Discovery Capability

IT asset discovery means to gather a complete inventory of all your IT assets. These can include company computers, printers, photocopiers, mobile devices, software applications, and more.

As IT infrastructures frequently change, asset discovery can still provide a regular up-to-date view of all assets.

So, as far as ITAM features go, this is one of the most crucial ones.

Software Management

If a business has a range of software applications, this feature will help to store, track, and manage them all in one place.

For example, software management can show how many users there are for each software license. It can also highlight which version of an application has been installed on which employee device.

When licenses are due to expire, this feature will also help to renew or dispose of them easily without incurring penalties.

Configuration Management Database (CMBD)

A CMBD allows a business to keep a complete repository of all Configuration Items (CIs) in an IT environment.

Through a CMBD, businesses can better understand the relationship between CIs and identify the impact that one CI might have on other CIs.

A CMBD is designed to support complex IT infrastructures.

Purchase Orders and Contract Management

When purchasing IT assets, having an effective order and contract management tool helps to manage the purchase order cycle. While sending notifications out to stakeholders to approve procurement.

Likewise, if a business has contracts with multiple vendors, it can keep everything together. Essential information such as terms and conditions, expiry dates, and renewal information are all stored in one accessible place.

IT Asset Monitoring

Some software solutions also provide performance monitoring options to help track network, CPU, and memory usage for various workstations.

If a business has sister or parent websites, URL monitoring can alert them if they suddenly become unavailable.

There's also hardware and software monitoring, which can produce alerts when illegal or unwanted software is installed.

These alerts can be used in similar scenarios too, like when an unknown flash drive, for example, is connected to a workstation.

Help Desk Features

In an ideal world, an IT help desk tool should go hand in hand with IT asset management.

By having as much information about hardware and software assets as possible, a technician has a better chance of quickly resolving end-user issues.

Remote access is another feature linked to help desk management. With this, a business can take control of IT devices remotely and resolve issues.

Integration with help desk tools also help to improve service quality and satisfaction across the organisation.

Analytics and Reporting

Predefined and custom reporting is another essential feature of an ITAM system.

Accurate reporting can help keep control of IT inventory, check how IT assets are performing, and understand where they are in their lifecycle. Additionally, this also helps with compliance and auditing processes too.
What Is the Difference Between ITAM and ITSM?
IT Asset Management (ITAM) and IT Service Management (ITSM) are both critical for organisation's that rely on their IT processes. But, both solutions vary in purpose and objectives when it comes to maximising IT resources and achieving optimal IT-business alignment.

How to Find the Best IT Management Software for Your IT Processes
Identifying the best IT asset management software for your requirements is a complex and time-consuming process. But, by following our 9-point framework, you'll have a better picture of what the best ITAM tool looks like for your business:
Ask Yourself: Do You Need IT Management Software?

Sometimes, a spreadsheet is a better solution. This is especially true if you're a team of fewer than 10 people with less than 75 IT Assets. In this case, a spreadsheet-based IT asset register can be practical and value-effective. But, for IT teams who manage more than 250 IT assets, ITAM software is the right option.

However, implementing the right tool is only part is a part of the solution. There are many other components to consider when wanting to achieve effective management of IT inventory. Such as:

Having clarity on what you mean by IT asset management

Setting targets you want to achieve with your ITAM solution

Managing your IT Inventory management processes and workflows

Correctly deploying a tool that can be used by your IT team and employees

It's common for IT managers and businesses to view an ITAM tool as the only solution to their IT problems. But, an IT tool only has the power to automate processes using the data you already have. Meaning, if your data is not optimised for your IT needs, then it will be just another tool that collects data.

So, ask yourself; do you need IT asset management software to automate your correct data and improve processes? Or, are you searching for good data and processes within an ITAM tool?

If the first question is relevant to you, then you're ready to shortlist and compare IT asset management software. But, if you're more aligned with the second question, then just choosing an ITAM tool is not the answer.

Identify and Clarify the Level of Your Organisational Readiness to Adopt an IT Management Solution

Most IT teams and IT managers that consider implementing a new ITAM tool are most likely carrying out their current IT processes using:

Spreadsheets

Basic IT Inventory discovery tools

Free alternatives to existing software

One main reason why organisations begin their search for an ITAM tool is to start the migration from using error-prone spreadsheets. In fact, 87% of the companies (analysed based on 641 leads on Comparesoft) looking for new ITAM software typically migrate from spreadsheets.

But, moving away from spreadsheets is not just a tool change. It requires a change in mindset and perspective too.

The way you record IT Inventory in a spreadsheet is very different from a contemporary IT tool. For example, you no longer have to export data from your network discovery tool or enter data in a spreadsheet. The best IT asset management software tools integrate with an agent or agent-less discovery tools and import the relevant metadata efficiently.

Version and access control on spreadsheets provide significant flexibility. But, when it comes to "standardised information entry" and looking for "one source of truth", a spreadsheet-based approach can be very challenging.

Set Targets for Your IT Asset Management Software

Your decision to invest in IT asset management software is a decision to invest cash and time. But it should also be an opportunity to focus on improvements, such as:

Better IT inventory management

Building an accurate IT asset register

Having a secure IT Network

Having on-demand visibility of IT usage by users, amongst other qualitative parameters

Below, is a basic example of the targets you should set for your ITAM tool.

| IT Inventory | Quantity | Current IT Spend Per Year | New IT Spend With ITAM Per Year |
| --- | --- | --- | --- |
| Monitors | 500 | £100,000 | £90,000 |
| Desktops | 430 | £301,000 | £270,900 |
| Software Licenses | 350 | £126,000 | £100,800 |
| Servers | 90 | £13,500 | £12,150 |
| Total | 1370 | £540,500 | £473,850 |

Identify the IT Data (Metadata) That You Want to Hold In Your ITAM Software

You can create a single source of truth if you agree on the details and data you want to collect with your team. But, it is worth noting that your IT Inventory will not have consistent data as every manufacturer records data differently. So, most IT Teams end up relying on Serial Numbers for core identification.

Identifying the data you want to hold by IT Inventory type is a detailed exercise. This may require mapping the fields between your asset discovery tool and your ITAM tool. In some cases, agreeing on the information you want to collect may clarify the issues you are having with your existing ITAM tool.

If you are considering utilising help desk features then agreeing on the incident types, knowledge-base, incident routing, and escalation is highly recommended.

Be sure to carefully review and inspect data from your existing spreadsheet or systems. Quite often, when you are looking to implement IT asset management software, you need major workflow changes but minor changes to the way you capture and label your metadata.

As you are considering a new ITAM tool, you may also want to review the terminologies and labels you have been using within your IT team. Such as:

It's important to keep the terminologies simple so that everybody in the team, from a new starter to an experienced employee, can understand them. Standardised simple terminologies compound IT effectiveness. The time you spend here generally pays multiple dividends in the quality of your ITAM system and also savings during implementation.

Highlight the Cybersecurity Benefits That an ITAM Tool Will Provide

Having effective IT asset management software increases the chances of a more secure and less fragile IT network, which reduces cyber risk.

The fundamental concept is that with ITAM software you will know how many IT Assets you have, their status, location, and users. Using this information, you can:

Identify your most valuable and vulnerable assets

Identify users who may require cybersecurity training

Always keep your network patched

Use data to identify patterns between users and usage, which will help you to ring-fence your IT Infrastructure

Identify the Features and Functions You Need From an ITAM Tool

The IT asset management software tool that you have chosen should be one that's been adopted in your industry. But, most importantly, it should include the features that are critical for your IT processes. This will ensure your organisation benefits from your chosen tool and sees the best ROI.

The industry fit is more important than most people think, as every industry is different. However, the degree of similarities between the two businesses in the same industry is high. I guess this is a fancy way of saying Audi and BMW are similar, yet different.

Choosing an ITAM tool that is widely adopted in your industry has two main benefits:

The product is already used in your industry so there is market validation that the terminologies of your industry can be easily used in the product.

Every business is different. But within the same industry, the degree of difference is not very high, so the configuration of your IT asset management software will be faster in a tool that is adopted by your industry.

Most tools have similar features and capabilities. It is very difficult to distinguish between tools based solely on features and capabilities without looking at a product demo. The key differentiating factor is the depth of the features. They can be found by knowing how/why a particular tool was built. There are ITAM tools that were built from the ground-up to manage software assets. Some tools were built for hardware inventory management. Some prioritised help desk. And some were built for agent-less or agent-based discovery. It is advantageous to prioritise your requirements first, and then choose a tool based on your priorities. You can use this tool to clarify and outline your requirements.

The big differentiating factor is the user interface and how easy it is to use, but this aspect is very subjective. Some people like a clean, modern and minimalist approach to user interfaces. Others prefer all information on one page with minimum clicks. Some prefer long interfaces and others prefer short A4-page-type interfaces. The only way to understand this attribute is to take a look at the product images and product videos. This also links back to the industry adoption point. Users in the same industry tend to have a similar user interface and product experience preferences.

Look Out for Free Trials and Demos of IT Management Products

When searching for the best IT asset management software product, it can be tempting to start with a free trial. In fact, we see a lot of buyers jump at free trials of ITAM products even before they are clear about their requirements. Free trials at the start of your consideration cycle should be used to gauge user experience and product experience.

After you have shortlisted the best ITAM tools, free trials should be carried using your data. This helps you to get a better perspective of the tool and minimises the risk of choosing the wrong one.

We also recommend that you ask your colleagues and users to take free trials of the product, too. So that you can gauge how well the system can be adopted throughout the organisation.

Implementing and Adopting Your Chosen IT Management Software

66% cost overrun, 33% schedule overrun, and 13% shortfall on benefits. These are the average stats for a typical IT implementation, as per a study administered by McKinsey and Oxford.

Most IT Asset Management tools deliver about 10-to-15% in cost and efficiency savings. If the average shortfall is 17%, then there's a real risk that your chosen ITAM solution can actually do more harm than good.

The implementation and adoption of IT asset management software needs a clear road-map before you buy the tool. Your implementation and adoption roadmap should be clear. It should have buy-in from your peers and senior management, as well as your chosen software vendor. Lack of clarity and focus remains the number one reason for project failures. So, we highly recommend that you drive clarity on your implementation and adoption process.

Making Decisions Based on Emotions, Logic, and Competency

Whilst a decision to buy a tool will be based on emotion, as it is largely based on the people who represent the vendors, we suggest scoring the logic used to make your decision and the competency of your product in a quantitative way. For example:

| | 1st product | 2nd product | 3rd product |
| --- | --- | --- | --- |
| User Interface | 8/10 | 7/10 | 9/10 |
| Product Experience With Your Data | 6/10 | 5/10 | 6/10 |
| Industry Fit | 20 customers | 27 customers | 16 customers |
| Discovery Capabilities | 7/10 | 5/10 | 6/10 |
| Total Cost | £100 per user | £120 per user | £180 per user |
Knowledge Guides for IT Asset Management (ITAM) Software Users & IT Teams