A Buyer's Guide to Help You Find the Right Help Desk Software
As manager of a support team or your company's customer service operations, this buyer's guide will assist you in your journey to find the very best help desk software.
By following our six-step help desk software guide, you'll be able to highlight the challenges you wish to rectify within your current setup, as well as identifying the features and tools needed to enhance your support and service desk experiences.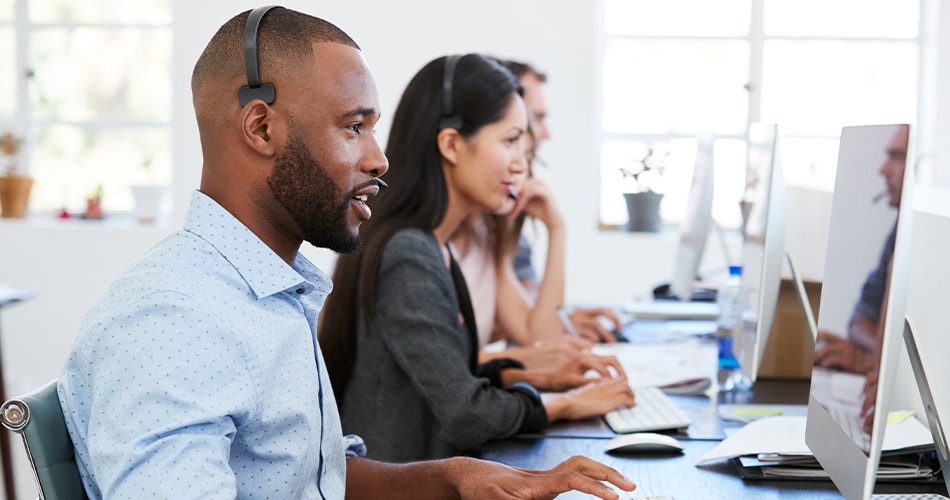 Whether you're implementing a help desk software solution for the first time or replacing an outdated customer service tool, you're here because you want to elevate and revolutionise your internal and external support experiences.
Who benefits from using help desk software?
Help desk software can be integrated into various types of companies and teams, such as large businesses, e-commerce retailers, and Human Resources (HR). Here are three examples of teams and organisations that can benefit from using help desk software:
Enterprises and Large Organisations

Made up of different teams and departments, enterprises require help desk tools to provide the most efficient support possible on a larger scale. For example, they will require better communication between internal teams such as sales, marketing and support. As well as having to manage agents across different countries, time zones, and languages.

Small and Medium Businesses (SMBs)

Small businesses typically do not have the resources to review communication or monitor support channels. This makes help desk automation features essential, allowing smaller support teams to focus only on answering tickets and resolving issues. A medium-sized company will also require similar features, as well as prioritising a scalable model for their growing business.

HR and Information Technology (IT) Teams

HR teams are able to provide streamlined, efficient, and responsive support to their employees. This is helped with the use of a ticketing system and quick access to a service desk knowledge base. Similar to HR teams, an IT support team will find themselves answering the same questions over and over again. But, with a knowledge base, issues can be accelerated and solved instantly. By also having a direct line of communication with other teams, support members can quickly contact technicians to seek further support.
Why do companies choose to implement help desk software?
Like yourself, businesses go in search of a help desk tool once they've identified a problem or an opportunity in their current support and service processes. For instance, you may choose to focus your help desk operations more on adhering to higher customer service exceptions. Or, you may want to build a service desk knowledge base to provide better support to end users and your support team.
A support and service manager will only come to this conclusion once they have mapped out the current help desk processes that they and their team are responsible for. Once compiled into a list, they can then highlight the areas they need to improve.
An effective way to do this is to identify how each process is carried out and then compare it against how it can be improved with a help desk software tool. As an example, here are three support processes used without and with a help desk tool:
| | Without Help Desk Software | With Help Desk Software |
| --- | --- | --- |
| Multichannel ticketing system | Manually manage requests across multiple channels such as phone, email, live chat and social media. | Requests from all channels are processed into tickets that can be tagged, categorised and passed between relevant support teams. |
| Customer self-service | With no searchable information, customers will contact you regarding all types of issues and enquiries. | Customers can access online self-service portals and knowledge bases full of commonly-reported issues, FAQs, forums, and product documentation. |
| Reporting and analysing | Without tracking agents and tickets, you'll have no overall picture of how your service desk operations are performing or where you need to improve. | With reporting tools you're able to analyse and measure your overall service desk performance and agent productivity to identify opportunities in your operations. |
2. Map out your existing customer service experience and support team processes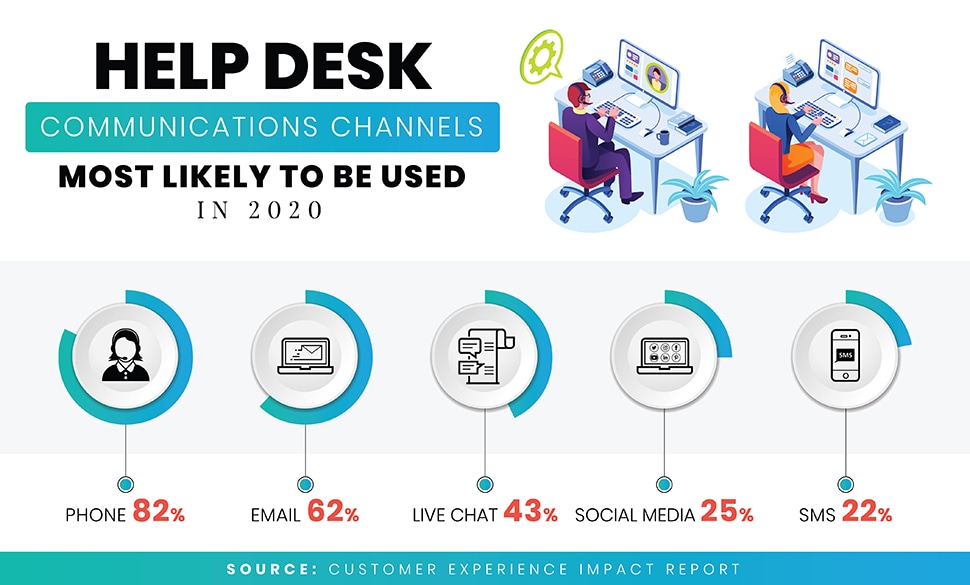 Planning and preparation are key to choosing the right help desk software for your support and service operations. When beginning your search, you should first take the time to map out all of your current processes.
To do this, start investigating how you provide your customer service and support experiences, as well as questioning the tools that are available to your support team.
An effective way to organise your processes is to split them into the three groups; customer service experience, internal employee support, and support team.
What are your processes for providing customer service?
How do you manage and track multichannel requests?

Requests will come in the form of questions, complaints and issues that a customer may have experienced when using your product or service. They can come from a variety of different types of communication outlets too, such as:

Email

Phone

Live chat

SMS

Social Media (Facebook, Twitter, Instagram)

Unless you have an agent or team monitoring each line of communication, receiving requests across these outlets can be overwhelming. Not only should you consider how to manage each one, but you should also consider how each request is dealt with. For example, do you prioritise requests based on severity or in order of time-received? Do you also have a system in place to track each request and make sure that they have been resolved?

Do you offer your customers on-page support

Ideally, customers want to resolve their issues without having to contact a support line. This is achieved by building a knowledge base of common enquiries that customers can refer to, such as FAQs, automated live chats and product/service documentation. Keep in mind, if you aren't able to provide a quick solution, you may eventually lose users to a more customer-friendly competitor.

How do you measure the success of your customer service experience?

Analysing a customer's experience and measuring the success of your support processes is crucial. Not only are you able to highlight challenges and opportunities in your set up, but you can also identify which of your support agents are offering the best support experience.
What are your processes for providing support for internal employees?
How do you manage and prioritise internal requests?

Having an effective support system available to end users is essential to ensuring operations run smoothly throughout the workplace. Internal requests can be made by employees, managers and executives, but the severity can differ. So, it's important to question how you handle them:

Do you have a system that prioritises urgent requests?

Is there a dedicated line of communication for managers and executives?

Do employees have access to a self-service portal?

Is there a line of communication for employees working abroad?
What tools are provided to your support team?
Does your support team resolve customer issues?

Most customer enquiries will be repeated, meaning they've previously been resolved. But, without a knowledge base containing this information, your support agents will find themselves sifting through a backlog of emails, social media messages, and phone scripts – therefore prolonging the response time to the customer's original request.

Does your support team manage requests and assign tickets?

Whether you have a single shared inbox or a dedicated dashboard for each support team, effectively managing and assigning tickets is essential for offering a greater customer service experience. By managing tickets, you're able to:

Assign knowledgeable support agents to answer specific requests

Avoid agents duplicating tickets by providing a clear workflow for each request

Place tickets in order of priority
3. Highlight your support and service goals by identifying the gaps in your help desk operations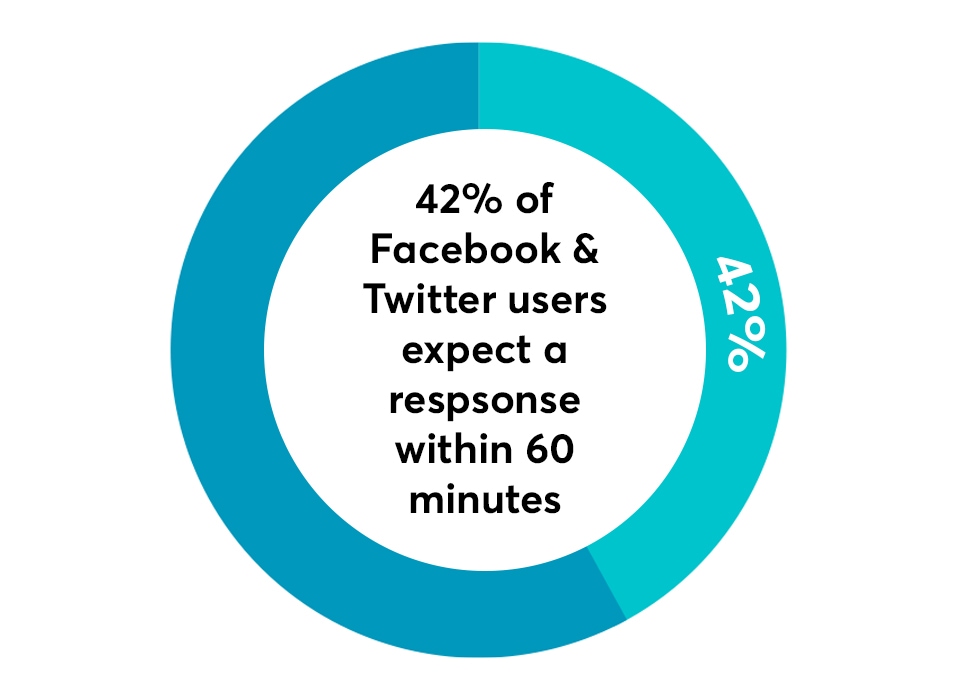 When searching for the right help desk software tool, it's important to define what you want to achieve in improving your customer and support experiences. That way, when you come to shortlisting your product options, you'll be able to identify the exact requirements needed to meet your goals.
Advancements in customer service products and practices have put reliance on companies to continually improve their support experiences. So much so, that in a recent survey by the Customer Experience Impact Report, 89% of people said they chose to do business with a competitor after poor customer experience.
Before defining your goals, you first need to understand what your end users and support teams expect from you.
Top Tip: When choosing help desk software, keep in mind that the right tool for you may not necessarily be the best one available on the market. It's important to select a tool because it matches your goals, not because it was featured in a top 10 list of best help desk solutions.
What service experiences do your customers expect?
Do customers want an answer within an hour or a day?

Can they expect to find answers themselves using a self-service portal?

Do they prefer to search a knowledge base instead of contacting a support agent?

Do they want to contact you via social media, instead of email and phone?
What support experiences do internal employees expect?
Do they assume a quick response to IT issues?

Can they access a communications channel at any time?

Are managers and executives prioritised ahead of other end users?

Can they access a knowledge base to resolve issues themselves?
What workflow experiences do support teams expect?
Are help desk tools easy to use with minimal training required?

Do they expect you to supply relevant features to help complete tickets?

Are they able to prioritise and categorise tickets?

Do they expect access to a knowledge base to provide quick answers to tickets?
Once you've defined your goals, as well as the support and service experiences you want to offer, compare them against the ones that you currently provide. By doing this, you're then able to highlight the gaps and challenges within your help desk operations. An effective way to identify these gaps is to separate them into two groups: hard challenges and soft challenges. Hard challenges are measurable and can directly affect the experiences you offer, whereas soft challenges are more generalised and may not be quantifiable. Here are some typical challenges that service managers and support teams will come across:
Hard Challenges
Not effectively managing comminution across all channels

Without a multichannel ticketing system, incoming requests and issues from all channels are managed manually. Not only does this slow the productivity of agents and your support team down, but it also results in tickets being missed and unresolved. By having a form of channel management, you're not only able to track each ticket, but you can also assign agents to specific tickets of their calibre.

Not responding to requests on time

By resolving tickets slower than expected, you face the consequence of losing customers. A poor response time can affect internal end users too, as they expect IT issues to be resolved instantly. Whether you have poor channel management, your team uses one shared inbox for all tickets, or you have no ticket notification system, time management issues need to be rectified.

Not prioritising tickets in order of severity

The majority of your help desk processes are dealt with manually, meaning there is no way to categorise or sort tickets in order of severity. Instead, you may be answering and resolving tickets in order of time-received. This can be an issue for maintaining customer service satisfaction, as well internal employee support. For example, if an internal employee is about to display a presentation in a meeting but runs into an IT issue, they will expect this issue to be prioritised and resolved instantly.

Communication gaps in your support team

In relation to poor channel management, communication gaps may be appearing in your support team. This lack of communication can result in duplicated ticket responses with agents resolving the same issues. This is as well as requests going unanswered (as agents presume other agents have resolved them) and tickets being assigned to a support team in the wrong department.
Soft Challenges
Not having an accessible knowledge base

A knowledge base, or knowledge management system, is an effective library of descriptions to common and previously unresolved problems. These can be visible publicly through a customer self service portal or internally, to be used by IT support teams and technicians. Either way, having a repository of information on-hand can increase the time it takes to resolve requests, as well as decreasing the dependency of support agents.

Not providing a self-service portal for customers

For some customers, they prefer to search for and resolve issues without having to contact a support agent. These are publicly available and include searchable FAQs, product documentation, downloadable patches and forums. Some modern self-service portals will also include an option for customers to submit an issue if they cannot find a solution.

Not analysing help desk processes and experiences

With no access to reporting and analytic tools, it can be difficult to analyse your current help desk operations. Without collecting data on how your team handles their support and service processes, there is no definitive way to effectively analyse operations in a bid to improve them. This is especially true for smaller businesses with only a handful of service and support agents; they simply do not have the time or resources to analyse their processes.

You're using an outdated help desk system

This applies specifically to how your agents use the tool and what it can offer them. If they're using an outdated help desk system that doesn't provide the right tools to carry out processes effectively, your customer service and end user support experience will suffer.
Top Tip: If you are struggling to find gaps within your help desk operations, there are a number of things you can try. One way is to ask your team about the challenges they have experienced when interacting with customers. Another way is to ask for feedback from your end users regarding their experience with your support team, either by using online survey forms or sending follow-up emails.
4. Ensure there is a match between your core requirements and help desk software features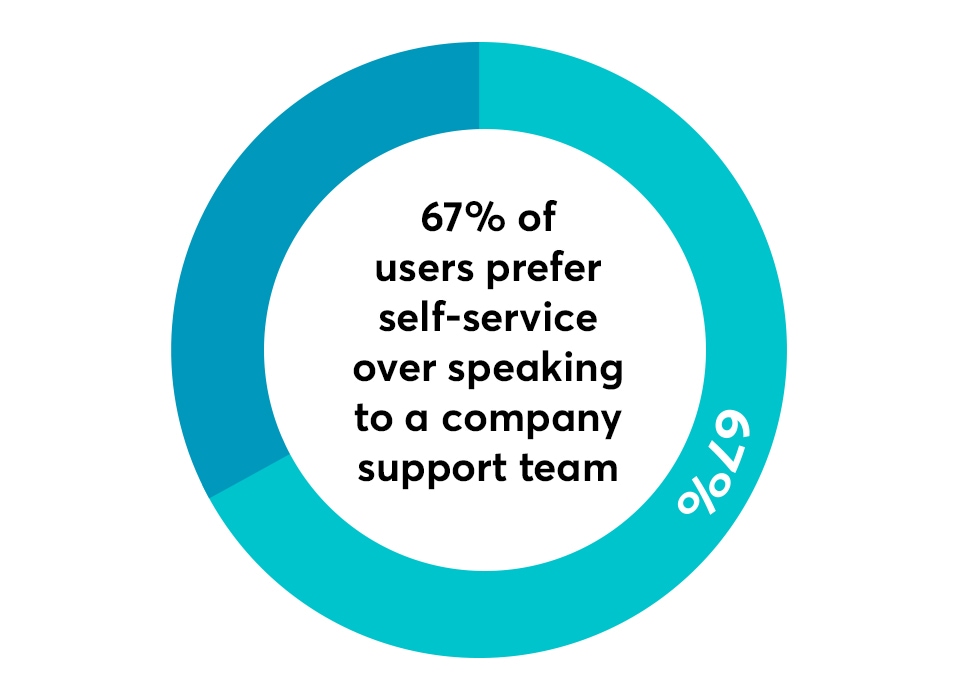 Realising the need for help desk software is important, but selecting a help desk tool with the right features is essential. Not only do you need to recognise the features that are going to close the gaps in your current service and support processes, but you also need to highlight your core requirements.
An effective way to do this is to create two groups: Essential features and Non-essential features.
Essential features: These consist of core requirements that are needed to help reach your service and support goals.
Non-essential features: These are features that would be nice to have and that may improve your service desk operations in the future.
Having an understanding of which features are essential and which aren't will allow for a more focused approach when it comes to shortlisting your help desk software options.
On your journey, you'll notice help desk tools offering different variations of features. For example, some tools will have features that focus more on customer service, while others will have features that focus more on support teams. Although the majority of features are designed to improve your service desk operations as a whole, it's helpful to know the features that may be better suited to a particular process. For example:
Features that can improve customer service experience
Social tie-ins

Allows for tickets to be raised via social media accounts such as Facebook and Twitter, as well as email and phone.

Integrated live chat

A live chat integration will convert all chats into tickets, making it essential for not missing questions when out-of-hours.

Reporting and analytics

Allows you to measure the performance metrics of agents in a bid to monitor and improve their customer service performances.

Service Level Agreement (SLA) management

SLAs provide assurances through prioritised triggers and automated escalations to guarantee customers that their request will be resolved.

Self-service portal

A searchable self-service portal allows customers to search through FAQs, forums and product documentation to find solutions without needing to contact a support agent.
Features that can improve internal employee support
Knowledge base

A library of common questions and answers that is publicly available via a service desk login for end users to search and find solutions to their issues.

Remote support

Allows IT support members and technicians to remotely control a computer from a remote location to perform diagnostics with minimal end user involvement.

Customisation

Allows for the entire tool, or certain aspects, to be tailored in a way that feels familiar and easy-to-use.
Features that can improve the productivity of support teams
Automations

With event-based and time-based automations in place, tickets can be automatically assigned to the right support agents to improve workflow.

Multichannel ticketing system

Tickets are streamlined from all communication channels and automatically tagged, categorised and assigned into one place.

Collaboration

Allows agents to be kept informed of ticket owners and their responses, to make sure support teams are on the same page.

Mobile support

Agents are able to access tickets, knowledge bases and reports from their smartphone or tablet.

As you identify your core help desk software requirements, you'll need to evaluate each feature individually before categorising them as either essential or non-essential. This process can be made easier by working with your team and asking the following five questions about each feature:

What value does this feature add to our customer service experience? To our internal user support? To our support team?

What training will our support team need to be able to use this feature?

What legal requirements do we need to meet with this feature (e.g. privacy policies and GDPR laws)?

Can this feature be easily integrated with existing systems (e.g. emails, data storage and file hosting)?

Does this feature need to be built into the tool, or can a separate add-on be used?
5. Establish the budget needed to deliver your help desk service and support goals
It's important to determine the value that a help desk solution can offer your operations. For instance, what would be the value of increased company workflow through an efficient end user support experience? And what would you value customer retention through an improved customer service experience?
There are many reasons as to why building a budget is an essential step in your pursuit for the right help desk software, including:
To fit your business type

If you're a medium or small business, producing a realistic budget is key. Most SMBs can't afford to spend a large amount of money on help desk processes when there are other areas of the business to invest in. However, most help desk solutions are delivered as Software-as-a-Service (SaaS), meaning they're more affordable for businesses that do not have the resources to make a significant investment.

To determine the Total Cost of Ownership (TCO)

By setting out to build a budget, you'll decide on factors that will determine the value of implementing a help desk tool. The idea of knowing the TCO is to focus on the long-term value of the product, as opposed to costs such as purchase price and operations. Knowing the TCO will also prove a useful insight when working out the product's overall return on investment (ROI), which is important when getting buy-in from the company's decision-makers.

To help get buy-in from stakeholder

Getting buy-in from the company's decision-makers is critical for the approval and integration of your help desk software tool. Stakeholders will want to know the reasons behind the need for this system and what kind of ROI they can expect. Although pitches can differ depending on the stakeholder, whether that be the CFO or CIO, you'll want to focus on points such as:

Framing the current challenges within the company's help desk operations, such as being unprepared for an uptick in customers and channel communication

Show how the improvements to your customer service can help retain customers and bring in new ones to increase the business's bottom line

Demonstrate how a help desk tool can better organise the support team to increase productivity

Building a budget is also an effective way to make sure you keep within your spending limits when shortlisting products. However, there are some factors that can end up stretching those limits. So, it's important that you also factor-in unexpected costs, like:

The type of help desk software (e.g., cloud based, web based, on-premise or open source)

Fees for integrating existing software and tools

Fees for scaling the system in the future

Installation and implementation costs

Hidden fees for data storage limits and data migration
6. Shortlist, evaluate and compare help desk software tools and vendors
With core requirements in mind and a definitive budget set, your search for the right help desk software has now become a detailed and focused approach. Using these three tips, you can now start to put together a shortlist of help desk software options:
Have your list of core requirements visible at all times

Make sure to scan and search the entire help desk software marketplace

Shortlist at least five products that either match all or a majority of your core requirements
At the end of this comparison and evaluation stage, you'll be left with the perfect help desk tool for your support and service operations. But, to get to this stage, you first need to compare and cross-reference each product and vendor on your shortlist. To do this, we recommend creating an in-house evaluation team.
Why do you need to construct a help desk software evaluation team?
If you're a small business, this evaluation team may only be yourself. But, for larger outfits, your team should consist of a mix of people that will be affected by the implementation of a new help desk system. Ideally, this will be made up of:
A junior-level agent that deals directly with customers and internal requests

2-3 regular support team employees

A support and service manager or team leader
Once you have your team, it's time to compare and evaluate your shortlist of help desk options.
What to look for when comparing help desk software tools
Core requirements

The basis of your search for a help desk solution is to enhance and improve your current service and support processes. To achieve this, the right product needs to match all of the core requirements that you have identified.

Usability and familiarity

Having a tool that is both familiar and easy to use, with minimal training, is key for both your support team and end users. Ease of use is vital for improving customer experience, while internal users will want a system that they can easily navigate and locate the right support.

Integration with other software and tools

You may need programs such as email and data storage solutions to be used alongside your help desk system. Although most integration features come as standard, some tools require additional add-ons and extra fees to integrate external tools.

Type of help desk software

Whether deployed via cloud or through a web based application, knowing what type of help desk software is key to remaining within your budget. Here're four types of help desk software to help you distinguish what's best for your business:

Web based help desk software

Web based help desk software is hosted online on an external vendor's server and rented out to customers on a subscription basis. The host stores all your service and support data and makes it accessible through a website, desktop integration, or mobile app.

Cloud based help desk software

Cloud based help desk software is a web based solution that is built with scaling in mind. It is similar in the sense that data is stored on the host's servers and is accessed via a website. But, a cloud based service desk has no limitations in data storage, numbers of users, and bandwidth.

Open Source help desk software

Unlike proprietary software, open source help desk software allows access to the tool's source code. This is ideal for organisations with a development team.

Enterprise help desk software

As opposed to solutions for smaller sized operations, enterprise help desk software is much more complex and flexible. It is packed full of features and customisable tools and also integrates with existing systems and modules such as IT asset management.

Free trials and live demonstrations

All vendors should provide a free trial or live demonstration of their product. If not, get in touch with a salesperson and they'll be sure to guide you through the system. If the vendor still won't provide a sample of their product, that is a sign that this isn't the right tool for you.

Top Tip: Use a free trial as an opportunity to test out a previous scenario you're familiar with. By doing so, you're able to see how the system handles one of your own customer requests.
What to look for when comparing help desk software vendors
Support and training

Although the product you choose is simple to use, you and your team will still require some basic training. This could be webinar tutorials or even in-person lessons. It's also important to look at the support that each vendor offers. This could be either 24/7 live chat support or video tutorials. Not only will this help with short term issues, but it also gives an indication as to how quickly a vendor will resolve future problems.

Fit with your industry

Help desk software can be incorporated into various types of industries and markets. So, to better understand how well they can support your needs in the future, it's worth understanding how well they know your industry. Question each vendor about their previous customers and how they have handled problems that can also relate to your business.

Find user testimonials

Although a product may tick all the boxes and be within budget, reading vendor testimonials is highly recommended. Testimonials are an insightful first-hand look into previous customers' experiences. Each one regards how the vendor has either positively or negatively dealt with issues.

Implementation timescale

Before implementing a help desk system, it's useful to know how long the installation and migration process will take. Most cloud based and web based tools will be available from the moment of purchase. But, keep in mind, that if you are migrating data from another system, this may incur hidden costs. As well as taking some time to complete – meaning the tool may not be available to use right away.

Prices and pricing plans

Finally, and most importantly, always check the vendor's price and pricing plans. You'll want to know if there are extra fees for storage limits or implementation. As well as subscription and monthly payment options. Knowing the price is also crucial for understanding the value of the product in relation to your goals and milestones; "is it worth it?".
Experts Guides to Help Desk Software
5 Smart Ways Multichannel Help Desk Support Can Boost Your Customer Retention Rate
Acquiring new customers can be costly and time-consuming. So, here's 5 ways a multichannel help desk solution can improve your customer retention strategy.
5 Ways a Ticketing System Will Streamline Your Customer Service and Support
5 valuable ways a help desk ticketing system can providing your customers with a positive customer service experience to improve your customer retention.