Field service management (FSM) is becoming increasingly important in the telecom industry. Just because telecommunication companies specialise in deploying advanced telecom technology, doesn't mean their internal operations are at the bleeding edge of field service solutions.
Businesses are facing several challenges that can be solved through automation. They operate in a highly competitive landscape. With shifting customer preferences, evolving technologies, and ever-changing legal requirements.
With so many moving parts, it's crucial they have an efficient field service management system. One which can help deliver services and products more effectively.
This article covers the common objectives of telecom operations. Such as the challenges faced in managing field service tasks. And how the right field service automation solution can help manage field staff and projects.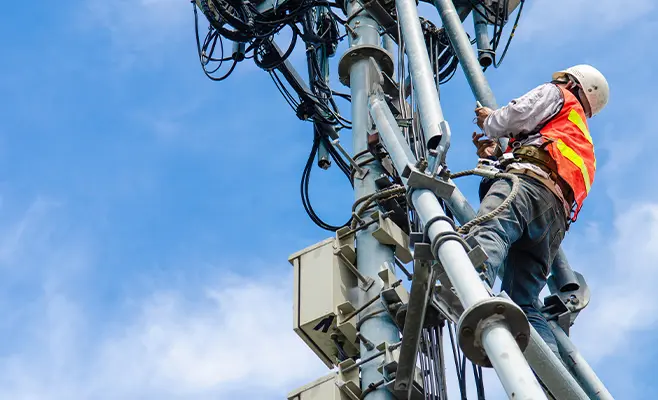 6 Current Problems Faced by the Telecom Industry
1. A Lack of Visibility
One challenge for telecom companies is a lack of visibility into their field service operations. This can make it difficult to manage and optimise resources. Automated tools can help by providing real-time visibility into all aspects of operations. From dispatch to invoicing. This allows operators to easily identify issues and make the necessary changes.
2. Demand in Customer Numbers
As more and more people come online (especially on mobile devices), the telecom industry is under pressure to keep up with the growing demand. As mobile overtakes desktop in the sheer number of devices, wireless networks too must expand in coverage and bandwidth to accommodate.
But, as demand increases, it becomes difficult to maintain the current levels of customer service. To meet customer demands, they need to find ways to optimise their mobile field service operations.
3. Shrinking Margins
With more competitors and shifting customer preferences, businesses are facing shrinking margins. This means they need to find ways to run more efficiently to stay competitive and sustainable.
4. Demand in Bandwidth
The demand for bandwidth is increasing as more and more people use data-hungry applications. This puts pressure on telecom companies to find ways to optimise their networks.
5. Maintenance Challenges
Telecom businesses are facing unique challenges when maintaining their equipment. Outdated systems, limited resources, and staff turnover can make maintenance a difficult task.
6. Changing Technology Standards
The landscape of the telecom industry is constantly changing. With new technologies and standards being developed all the time. This means companies need to be able to adapt their systems and processes regularly. Allowing them to stay ahead of the curve.
How Field Service Automation Benefits Telecommunications
The benefits of field service automation are similar to other system solutions. You'll have improved clarity on work orders, task status, and asset management. Each one helps your business to operate more efficiently and improve customer satisfaction.
With new technology and innovation comes the need to improve operations with tools such as field service technologies. 86% of decision-makers in the telecom industry agreed that 5G networks were driving investment in automation.
Service Automation Will Increase In Telecom Sectors*
*Zebra Study, 2020
Automation tools can significantly reduce your administrative overheads. Allowing the accuracy and efficiency of field service operations to improve.
Streamlined dispatch and routing capabilities allow your team to quickly assign tasks. As well as plan routes according to worker availability and site details. Real-time tracking of work order progress lets you know where your staff are working. Highlighting whether they are running behind schedule.
Optimal work allocation means the right people are working on the right tasks at the right time. This can lead to improved productivity and fewer errors.
15 Features Needed to Automate Telecom Field Service Tasks
It can be tempting to try to adapt to general field service management apps and tools. Yet there are key features that make telecommunication-specific platforms worth investigating.
1. Reporting Options
The ability to see and act upon real-time data is critical for field service managers. Look for software with a wide range of reporting options. This will give you the insights you need to make informed decisions about your workforce, resources, and customers. Not to be confused with real-time insights, longitudinal reports will help you to make informed strategic decisions over the long term.
2. Integrations With Existing Solutions
Identify those systems you have that are critical to retain and ensure a new system integrates well with them. There are workarounds for siloed systems, but integration will save time by simplifying backend procedures.
3. Flexibility and Customisation
Many telecom companies are global in scope, so it's important to find a customisable solution. This helps to support the nuances of each market. Additionally, look for software with configurable features that allow users to tailor the system. Each is based on their own personal preferences. This will help to realise the promises of a tool with minimal, unnecessary disruption to teams.
4. Customer Portals
A customer portal gives telecom providers one place to track and manage customer interactions. Whether it's service tickets or sales inquiries. Customer expectations are high for companies with front-line teams, and a customer portal is one way to meet them.
5. Billing and Payments
The billing process for telecom services is notoriously complex, with different rates for local, long-distance, and international calls, as well as data usage. A good platform will have a billing module that can handle all the different permutations. This helps to make sure customers get paid on time.
6. Contract Management
Telecom providers need to keep track of service contracts, often with multiple customers. A contract management module helps sales and customer service teams keep track of what's been sold, to whom, and at what price. This information is critical for upselling and cross-selling opportunities down the road.
7. Work Order Volume and Scheduling
In the telecom industry, work order management and scheduling can be a time-consuming, complex task. This is due to the large number of work orders that need to be processed daily. Automate this process by integrating it with your current work order system. This enables you to easily create schedules for technicians based on skills and availability.
8. Work Order Types
Several types of work orders need to be managed in a telecom operation. These include installations, repairs, maintenance orders, and upgrades. Each type has its own unique set of requirements.
9. Photo Capture and Documentation
In the telecom world, a picture is often worth a thousand words. Site visits frequently involve capturing photos of work completed, assets in the field, and other key details. A good platform will offer photo capture features. Enabling quick and easy photo documentation right from the mobile app. This helps to speed up invoicing processes and improve communication between office and field teams.
10. Site-Specific Details
Most field service systems don't need to know with a high degree of accuracy where a given site is located. An address is usually sufficient. With telecom companies, these details are paramount for equipment provisioning and performance expectations.
11. Supplier Relations
Most field service businesses need to maintain some kind of relationship with their suppliers. But, this is an area where telecommunications companies have a unique set of requirements. For instance, many networks are reliant on fibre-optic cables to be ordered and installed by providers. There might also be relationships with equipment manufacturers for maintenance and upgrades.
12. Remote Monitoring and Control
Another key feature is remote monitoring and control of equipment. This includes monitoring network performance, analysing service usage data, and tracking job progress. As well as knowing what kind of hardware has been installed or how much bandwidth is available.
13. Integration with Other Systems
Any good field service management tool should have robust integration capabilities. This allows for seamless communication between disparate systems. For example, a technician might need to pull up information about a customer's account. Ensuring they are authorised to perform certain tasks at their site.
14. Asset Management
In addition to managing staff and projects, field service platforms include an asset management module. This allows companies to track the use and status of their equipment in real-time. Including location, maintenance history, warranty information, and authorised users.
15. Inventory Tracking
Inventory management includes keeping track of spare parts, tools, and equipment that might be needed in the field. Knowing what's available and where it's located can help businesses respond quicker to customer needs.
Summary: Now's the Time for Automation
The most important part of selecting a field service platform is the process itself. Ensure you incorporate all stakeholders, up to and including your customer base and font line team members. Don't be put off by costs, especially if you're looking to improve your operations and customer experience.
Automated systems can save time and resources in the long run, so it's an investment worth making. And remember, not all solutions are created equal. Be sure to do extensive research on potential and dedicated telecom software providers before committing to a platform.
Find the UK's Best Field Service Management Software to Automate Your Telecom Field Services