Easily Shortlist and Compare CMMS Software that Meet Your Maintenance Management Requirements
What type of assets are you looking to maintain?
---
Best CMMS Software

IBM Maximo CMMS Software
Most Suitable For: Organisations with 30+ Maintenance Engineers
Customers: 100000+
Pricing: From £131 per user per month
Deployment Options: On-premise and Web-Based
Customer Feedback: 6 ★★★★★
The Computerised Maintenance Management System app is best suited to manage complex maintenance management requirements within asset intensive industries. From line maintenance to complex assembly maintenance, Maximo is a proven product with over 100,000 users.
Its top users are from Utilities, Oil and Gas, Nuclear Power, Transportation, Aviation and Life Sciences industries.
---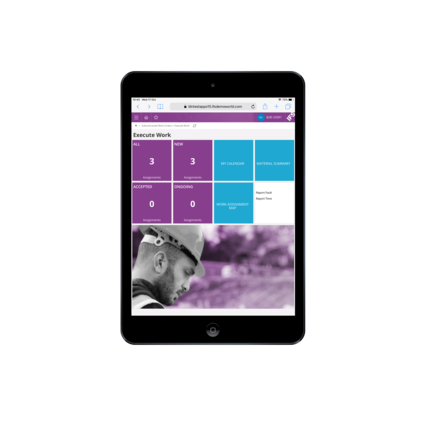 IFS CMMS Software
Most Suitable For: Organisations with 20 to 1000 Maintenance Engineers
Customers: 100000+
Deployment Options: On-premise, Web-Based, SaaS and Cloud-based
Industries: Aviation, Defense, Manufacturing and Chemicals
Customer Feedback: 10 ★★★★★
IFS Applications offers you a best-in-class Computerised Maintenance Management Software (CMMS), as well as maintenance repair and overhaul (MRO), field service management, reverse logistics and more.
IFS Applications manages preventive and even predictive maintenance and ensures the required service work is performed.
---

Maintenance Connection CMMS Software
Most Suitable For: Organisations with 20 to 100 Maintenance Engineers
Customers: 1000+
Pricing: From £10,000
Deployment Options: On-premise, Web-Based, SaaS and Cloud-based
Customer Feedback:
Maintenance Connection is a powerful CMMS product with comprehensive work order management capabilities. Planned, Preventative and Reactive Maintenance of complex assembly, individual components, and equipment in a production line can be effectively managed.
This product is best suited for maintenance programs within Industrial Manufacturing, Healthcare, Facility Management, and Government organisations.
It can be deployed as either an On-Premise or a Cloud-based product. The average price for a 3 user system, with 5 days of implementation and First Year's support is about £10,000. The product can also be accessed via its Mobile App.
---

Ultimo Maintenance Management Software
Most Suitable For: Organisations with 10+ Maintenance Engineers
Customers: 1750+
Pricing: From £35 per user per month
Deployment Options: On-premise, Web-Based, SaaS and Cloud-based
Customer Feedback: 7 ★★★★★
Ultimo's CMMS Software is a cloud-based Computerised Maintenance Management Software used by over 1750 asset-intensive businesses. It is available as a CMMS app, web-based system and also as an on-premise product.
The core features of the product include Asset Management, Word Order Management, Contract Management, Planned and Preventative Maintenance, as well as Cost Management.
Ultimo's CMMS App is used by big companies, as well as small and medium businesses. The product is widely used in Energy, Business Services, Care, Education, Environment and Logistics industries.
---

Hardcat Maintenance Management System
Most Suitable For: Organisations with 20 to 60 Maintenance Engineers
Customers: 2000+
Pricing: From £3000
Deployment Options: On-premise and Web-Based
Customer Feedback: 23 ★★★★★
Hardcat's Computerised Maintenance Management Software application is available as an on-premise as well as a web-based or cloud-based software. Even so, it is also available as a CMMS App.
Hardcat is best suited for small and medium businesses looking to manage standalone equipment, complex assembly or individual component.
The starting price point is £3000, and this includes a basic system for 2 desktop users and 1 smartphone/mobile user, 4 modules of your choice and 12 months free support.
Top users of Hardcat are from Law Enforcement, Emergency Services, Defence, Healthcare, Education, Hospitality, Telecommunications and Financial Services.
---

vx Maintain Asset and Facilities Management
Most Suitable For: Large Scale Retail Organisations with External Contractors
Customers: 100000+
Pricing: From £60 per unit per site
Deployment Options: Web-Based, SaaS and Cloud-based
Customer Feedback: 5 ★★★★★
Accruent's vx Maintain is a cloud-based SaaS product. Mainly used for managing work orders and assigning jobs to your internal employees and external contractors.
One of the best features of the Computerised Maintenance Management Software is the ability to create quick work orders with 'just enough' information.
Top users of vx Maintain are from facilities management and retail sector. Tesco, Coop, John Lewis Partnership and Trevis Perkins are some of the well-known users of vx Maintain. Its starting price point is an annual fee of £60 per unit.
---

Support Desk Pro Maintenance Service Management
Most Suitable For: Organisations with 25 to 100 Maintenance Engineers
Customers: 100+
Pricing: From £40 per user per month
Deployment Options: On-premise and Web-Based
Customer Feedback: 2 ★★★★★
Support Desk Pro is a service management solution with powerful Computerised Maintenance Management Software capabilities. It is available as both a desktop application and a mobile CMMS app. The product takes a service-centric approach to maintenance management.
The starting price point of this product is a monthly fee of £40 per user. It is payable monthly which is a cash flow and budget-friendly price plan.
---

Cascade Maintenance Management System for Electrical Utilities
Most Suitable For: Maintenance and Service Organisations within Electrical Industries
Customers: 100000+
Pricing: Tailored Pricing
Deployment Options: On-premise and Web-Based
Customer Feedback: 4 ★★★★★
Cascade Computerised Maintenance Management System software, from DNV, is specifically designed to understand the condition of electrical assets. It does this in such a way that you can base your maintenance plan based on the condition of your electrical utility assets.
Globally, over 100 energy utilities use the CASCADE Computerised Maintenance Management Software for their technical asset management. The mobile module of CASCADE offers convenience to field-based staff.
---

Agile Assets Maintenance Management System
Most Suitable For: Organisations with 30+ Maintenance Engineers
Customers: 1000+
Pricing: From £830 per user per year
Deployment Options: On-premise, Web-Based, SaaS and Cloud-based
Customer Feedback:10 ★★★★★
Maintenance Manager is a cloud based maintenance management solution. It is secure with 99.9% uptime. Also available as a Mobile App, it is designed to manage work orders, materials and fleet.
The Maintenance Manager gives you complete clarity across your maintenance activities, helping you take impactful maintenance decisions.
---

FMIS Equipment Maintenance Management Software
Most Suitable For: Organisations looking to manage leased equipment
Customers: 1000+
Pricing: From £3500
Deployment Options: On-premise and Web-Based
Customer Feedback: 3 ★★★★★
Equipment Maintenance Software from FMIS is an on-premise system as well as a web-based system. It is most suited for small and medium businesses with simple equipment management requirements.
FMIS has a strong solution for leased equipment management both from a financial (IFRS 16 and ASC 842 compliant) and rental management perspective.
Best users of FMIS Maintenance App are from Education, Equipment Leasing, Government, Healthcare, Manufacturing, Oil and Gas as well as Non-Profit Industries.
---
What is a CMMS Software?
Computerised Maintenance Management System (CMMS) software simplifies your planned, preventative and reactive maintenance activities.
It offers a common tool for your office and field-based teams to plan, execute and report on your maintenance activities.
Technical Benefits of Using Computerised Maintenance Management Software
Plan your maintenance activities based on the condition of your assets and time intervals.
Create work orders and job instructions aligned with the technical competency of your team.
Collect data across all your maintenance activities to plan and schedule maintenance programs based on equipment information.
Operational Benefits of using a CMMS software
Eliminate spreadsheet and paper based error prone culture which makes it very difficult to drive a result oriented maintenance program.
Create a single source of truth for your planned, preventive, predictive and reactive maintenance.
Provide mobile access of your CMMS program to your field based team in order to reduce the time and effort required to complete work orders.
Business Benefits of using a CMMS Software
Improve uptime of your equipment by 4 to 11% to drive more profit per equipment.
Reduce overall cost of maintenance by 6 to 22% by adopting preventative and predictive maintenance programs.
Share maintenance data and intelligence from your maintenance programs to get business – technical consensus on maintenance budget allocation.
---
15 Things to Consider Before Buying a CMMS software.(Applicable for Big and Small Businesses)
Your organisation is likely to use your chosen Computerised Maintenance Management Software for 3 to 5 years (Calculated based on analysing average customer life of our 921 CMMS software buyers). So it really pays-off to invest time in choosing a system that will form the basis of your maintenance program.
In the UK, there are 96 software vendors who provide equipment management and CMMS systems. As a result, it can be time consuming and confusing to look at multiple systems without having a clear idea of your requirements. The 15 points below have been written to clarify your thoughts and assist you in choosing the best CMMS system to meet your requirements.
1. Clarify your readiness to adopt a CMMS system and quantify your deliverables.
Over 93% of new CMMS software buyers use spreadsheet and paper based methods before implementing a cloud-based CMMS system. Data entry, maintenance workflow and reporting are fundamentally different in a CMMS system.
Moving away from the existing manual approach to a new system requires taking a fresh perspective to your maintenance program. There is no point in just replicating your current methods in a new CMMS system. For example; with a spreadsheet based system, most of the maintenance program is reactive or meter based. However, using a web-based CMMS tool will require you to switch to a preventative maintenance mode.
Implementing a new CMMS system is best viewed as taking a new perspective to your maintenance culture and strategy.
Leading maintenance teams assign maintenance oriented targets to be achieved with a new CMMS system. For example; if you have 500 equipment, your current maintenance cost is £200,000 and the average age of equipment is 4.5 years. With a new CMMS system, your maintenance cost should come down to the range of £160,000 to £180,000, and the average age per equipment should increase by 7 to 16%.
| Maintenance Parameters | Current System | Targets for New CMMS System |
| --- | --- | --- |
| Number of Equipment | 500 | 500 |
| Maintenance cost per Equipment | 6% per annum | 2.5 to 4% per annum |
| Equipment Life | 4.5 years | 5.5 to 7 years |
| Maintenance Costs | £200,000 | £160,000 |

Your 3 to 5 years' maintenance goals should be aligned with your CMMS system. Ideally, they should be presented and agreed on by key people from the maintenance, production and financial teams. It is vital that you view your new CMMS system as a tool that helps you implement your maintenance strategy, as it is not the strategy itself.
---
2. Identify equipment and maintenance data that you would like to hold.
The basis of a cost-saving and impactful maintenance program is concise and correct data. Too much data becomes overwhelming for technicians and users, while too little data creates 'not enough information' scenarios.
Existing sources like accounting software, spreadsheet, and asset tracking systems can be a good source to import data into your CMMS system. If you have tagged your assets, then the best CMMS systems can easily read the equipment data.
Work orders instruction, health and safety information, data about your office and field based teams, material, inventory and contractors are some of the vital areas that require identification before looking out for your best CMMS system.

---
3. Establish Your Work Order Types
As you decide to switch from manual to digital work orders, establishing the type of your work order is a good starting point.
If you are migrating from a spreadsheet based maintenance program, then your work order book is likely to look much different with a CMMS software. The level of planned, preventative and predictive maintenance will increase by at least 40 to 60%. Also, the level of information you can hold and analyse is substantially different with Computerised Maintenance Management Software. For example; asset data, skillset data, resource availability, equipment condition, place of maintenance, health and safety information, and previous maintenance history can all be reviewed from your work order.
Another element to think about here is who your work order creators are. It is not unusual for work order requests to be from end users of your equipment or facility in which case, you really require the work order fields to be simple and intuitive.
Pro Tip: Pick a CMMS system that supports both types of work orders; Quick ones which can be created for smaller jobs and Comprehensive work orders which are required for complex jobs
---
4. Identify Your Planned Maintenance Framework
There is a saying in the maintenance industry, "If you ask ten different maintenance engineers for the definition of planned maintenance, you will get ten different answers". We suggest you work with the framework that works best for you. However, it is useful to be clear about your planned maintenance framework. This maintenance can be an inspection routine to decide on preventative maintenance tasks or it can be condition or interval based light maintenance activities.

---
5. Get an idea of Your Preventative Maintenance Program
Preventative maintenance is a maintenance program for each of your equipment, and is based on time, interval, meter reading or regulatory compliance.
For example; Changing the timing belt of your centrifugal pump every 12 months, after winter production run, after a reading of 60,000 cycle counts, or due to safety compliance will be examples of preventative maintenance program. In effect, preventative maintenance is derived from understanding data from mean time between failures.
Below are some of the key elements that we suggest you investigate for your preventative maintenance program.
Maintenance tools and equipment
Skillset Required
Location of maintenance
Requirement of external contractors
Equipment warranty
Manufacturer's instructions and
Requirement of leased equipment
---
6. Identify if you need Predictive Maintenance
Predictive maintenance is a maintenance program based on understanding the condition of the equipment using Vibration Analysis, Lubrication Analysis, Motor Circuit Analysis, Visual Inspections, Infrared Thermography, Ultrasonic Analysis and other advanced condition monitoring techniques. Manufacturer's data, production runs, benchmarking industry maintenance plans and behaviour of the equipment are taken into account to understand the condition of your equipment.
Predictive maintenance is an advanced maintenance program mostly relevant to production or operations critical assets.
It is recommended to consider the suitability of predictive maintenance as it can have impactful changes to your maintenance, asset life and cost optimisation parameters.

---
7. Know How You Are Going to Address Reactive Maintenance Events
Even with a new CMMS software, you are very likely to undertake reactive maintenance tasks. Speed of response and quality of failure information are crucial elements in handling reactive situations.
Typically, you will need to mobilise people and equipment. Quite often, temporary replacement equipment might be necessary. While you are deciding about your new CMMS software, it will be beneficial to know how you plan to deal with reactive situations and how your CMMS system can deal with it.
In a reactive situation, modern Computerised Maintenance Management Software will allow you to get an idea of the tools, people and instructions required to address reactive tasks.

---
8. Note Your Mobile CMMS Requirements
Whether you plan to rely on external maintenance contractors or your field-based team, your mobile CMMS requirements must ideally be noted in detail.
To start with, mobile hardware devices have access compromises. Tablets can be difficult to carry especially in space-limited maintenance zones. These devices also have screen size limitations.
While a web-based or cloud-based mobile CMMS solution is responsive (adjusts itself based on the type of device), flipping across multiple screens to find and input information requires consideration.

Pro Tip: Map out your field based maintenance workflows from a mobile CMMS perspective to identify your requirements
---
9. Clarify Your Service Management Requirements
From a definition viewpoint, service management is an agreed maintenance plan with your customer. Quite often, there tends to be a service level agreement with your customer. This management often involves light maintenance activities like inspection, oil change, consumables replacement and cleaning. The one area which makes this different from maintenance management is tracking vehicle/fleet status. However, this requirement can be address by most CMMS systems.

Pro Info: Maintenance and Service Management are closely interlinked. They have significant overlap between their functions and the terms are sometimes interchangeably used.
---
10. Identify Your Field Maintenance Requests
"Who is going to log your maintenance requests" is a very crucial topic for your CMMS selection (hence we are mentioning it twice). Quite often, service or breakdown requests are logged by end-users of the product.
It is vital to understand where and how the requests are going to be logged. Basically, there are 2 – 3 types of users who log the breakdown and failure requests. Mode of logging requests – email, maintenance portal, calls or help desk are important to note as they will help you in asking relevant questions and identifying the suitability of CMMS products as you see demos of different products.
Another key element here is the requirements of your maintenance team on the roads, who are likely to require restocking of tools, flexible inventory delivery points, vehicle servicing, and access to a printer for work orders amongst other things. It is highly recommended to note these details as they will help you identify a CMMS tool that fits well in your maintenance workflows.

---
11. Establish your framework to monitor your maintenance activities with Maintenance Reports
Most CMMS system will have 100's of standard inbuilt report templates. We suggest you identify 5 to 10 reports that will be most useful to you. Typically, they revolve around;
Key Maintenance Trends
Over Maintenance or Under maintenance
Track Labour and Material Usage
Work Order Book by Status
Resource Availability and Skillset
Critical Assets
Weak Assets
One of the biggest benefits of moving from a manual spreadsheet based maintenance program to a CMMS system is the insight and maintenance intelligence that your system can develop. Quite often, reports are not viewed as part of the developing maintenance intelligence of your organisation.

Pro Tip: Maintenance reports are useful to different parts of the organisation. Accounting can know about maintenance costs, production can know about downtimes and maintenance schedules and management can get to know about the overall maintenance budgets and costs. Make sure you collaborate with other departments as you refine your list of maintenance reports.
---
12. Map your Maintenance Plan with Your Enterprise Asset Management Plan
Maintenance is a part of managing the complete life of your assets. There are activities linked to maintenance, such as initial capital planning, procurement, asset appreciation or depreciation and the final disposal.
As you are planning to deploy a new CMMS software, it would be advantageous to take pre-maintenance and post-maintenance approaches to your maintenance.
Total asset lifecycle management typically has considerable effect on Total Equipment Effectiveness and can therefore positively impact your maintenance program.
You are likely to deploy a well-accepted CMMS system if you collaborate with different teams that benefit from your maintenance management initiatives.

---
13. Review and Benchmark Maintenance Programs from Your Industry
Despite the fact that every business is different, there are numerous areas which overlap between businesses within the same industry.
For example;
Retail Maintenance Management Solutions require a special focus on managing different types of refrigerators.
Facilities sector quite often use a combination of internal and external maintenance contractors.
Maintenance systems in the manufacturing sector always require strong planning and scheduling features.


The industry sector has special requirements and so does every business. By reviewing multiple CMMS systems from within your industry, you are likely to deploy a solution which aligns with your business and hence, is well used by your team members.
---
14. Identify if your equipment transmit data about themselves. (Fancy people call it Internet of Things)
Over the last 5 to 7 years, there has been a five-fold increase in the number of equipment which has advanced sensors and thermostats that can emit data about themselves. For example; a compressor can emit data about its operating conditions like temperature, pressure, meter readings, cycle counts and other elements.
If you have, or plan to buy internet enabled equipment, then ensure that your new CMMS system is able to import and handle data emitted from different equipment.
Equipment that emits data can help enormously with predictive and planned maintenance. In a lot of cases, they themselves will inform you about potential maintenance and failure issues.


Pro tip: A cloud-based Computerised Maintenance Management System is more adept at handling Internet of Things (IoT) enabled maintenance management program.
---
15. Be aware of Cognitive Maintenance
There are CMMS systems that can develop patterns from historic maintenance plans, correlate with equipment performance, manufacturer's data and industry benchmarks. All of this is possible using machine learning algorithms. As of now, most of these systems are applicable to capex heavy and asset intensive industries like Oil and Gas, Energy, Power, Aviation, Defense and Manufacturing. If you are looking for an advanced CMMS system, then it might be useful to investigate cognitive, machine learning or Industry 4.0 features.
---
CMMS FAQ'S
1. How do I find the best CMMS software?
The term 'best CMMS software' is subjective. What's best for others may not be best for your situation. Just like the best car or best house for you is not the best for others. Only you can judge what the best CMMS tool for you is. Buying this software based on what others term as 'Best' is risky. Typically, a Computerised Maintenance Management System stays in a business for 3 to 5 years, so it is ideal to find a solution that is best for you based on your requirements.
In order to identify the best CMMS software for you, map out your technical, user level and commercial requirements and review software products that match your requirements. You can look through multiple CMMS product websites or use this CMMS search assistant to quickly identify the best options for you.

2. How much does a CMMS software cost?
Based on our review of 96 UK based CMMS tools, the price ranges from £9.99 to £4250 per user per month. There are some really good systems available between £25 and £100 per user per month. Implementation costs will depend on your requirements.
Chat with us if you would like to identify the best value CMMS tools for you.

3. Is a web-based or a cloud-based CMMS system better than an On-Premise tool?
This depends on your requirements. There are certain industries and instances where a web or a cloud based solution can have access limitations. There are also instances where your company may prefer to restrict web-access for cyber security reasons. In some instances, companies do not prefer their data to be on the web. All these conditions favour an on-premise solution.
Below are the key differences between on-premise and web-based Computerised Maintenance Management Systems:

| CMMS Software Parameters | On-premise | Cloud-based/Web-based System |
| --- | --- | --- |
| Reactive Maintenance | Same Features | Same Features |
| Planned Maintenance | Same Features | Same Features |
| Preventative Maintenance | Same Features | Same Features |
| IoT Driven Maintenance | May require significant configuration | IoT Friendly |
| Pricing Model | Upfront pricing | Annual or monthly payment |
| Ownership Model | You own the software | You rent the software and the space where you hold your data. To be clear, you just own your own data. |
| Mobile CMMS | Typically a web-access which may have user experience issues | Mobile Computerised Maintenance Management System friendly features |
| CMMS App | Mostly unavailable. In a few cases web-access of your on-premise system can be configured. | Mostly available |
4. What is the difference between Mobile CMMS, CMMS App and CMMS Software?
In almost all of the cases, they are one and the same thing. The names are different which is based on where you access a CMMS tool from;
Computerised Maintenance Management System software is an application that you can access from a desktop, laptop and mobile. Most web-based software are responsive, which means their window will adjust to the type of device you are accessing the product on.
Mobile CMMS is that which you can access on your phone's browser.
CMMS App is an application that you can download from App. Store or Google Play and access on your phone. The app can be really useful in accessing information without internet connection.

5. Should small businesses invest in CMMS software?
If you own more than £500,000 in assets or have more than 250 assets then a CMMS tool will be useful.
The general rule of thumb is that you save about 4 to 18% on your maintenance costs with a CMMS tool. Therefore, for assets worth £500,000, you are likely to save £20,000 to £90,000 across the life of your assets with a CMMS tool.
There are instances where you will be better off to source an external contractor to manage all your maintenance management requirements.

6. How does Comparesoft (this website) compare CMMS software?
Comparesoft relies on maintenance experts, natural language processing and machine learning to identify and match CMMS products to your requirements. In essence, we blend human experience and artificial intelligence to identify the best products based on your requirements.
Below is how we ensure that the products we recommend meet your requirements;
We have asked every CMMS software vendor listed on our website to demo their product to us. Product strengths and differentiators have been verified.
We have analysed over 1200 online data points to identify latent semantic terms related to Computerised Maintenance Management System software
Our ranking and recommendation is based on verifiable data and also feedback from buyers who have contacted CMMS software vendors from Comparesoft
7. Why compare Computerised Maintenance Management System Software with Comparesoft?
We will show you cost-effective options. On average, our recommendations can save you up to 21% of costs. (Please note: it is not always possible to save on the costs, sometimes investing in the right tool is the right maintenance decision)
We will save you at least 6 to 10 hours of hassle visiting multiple websites to identify the right products for you. At Comparesoft,

You can identify the products that match your requirements within a few minutes by answering some fundamental maintenance oriented questions.
Compare and Shortlist CMMS tools based on relevance and price
Get our unbiased advice and
Communicate with multiple vendors from one single place

Computerised maintenance management system buying is complex and hard. Most tools look the same, feel the same and nobody has bad reviews. We have done the hardwork of identifying cost effective and value based tools. Products like IBM Maximo, IFS, FMIS, Ultimo and 94 other products are listed with us. We will recommend to you the products which are right you.
Software Buyers from Volvo, PwC, Transport for London, GE, Siemens, NHS, Honda, BAE Systems, Just Eat and 16000+ other big and small businesses from different industries have used our UK based comparison service
8. Should I buy CMMS software based on Reviews?
Genuine Reviews are very useful and can aid in your decision making. However, the challenge is finding genuine and complete reviews. The web is full of fake and paid reviews which makes it difficult to identify useful information. We genuinely struggle to see bad reviews about software products which makes the reviews opaque.
9. Are there specific CMMS Systems for Planned, Preventative and Reactive Maintenance?
No. There are no variants of CMMS Systems for Planned, Preventative and Reactive maintenance. Whilst the capabilities of CMMS Systems definitely vary and some tools are stronger than others. Most CMMS systems cater to different types of maintenance programmes. If you are looking to connect your CMMS System to your equipment data then you require a data historian or a data pipe. Condition monitoring capabilities of CMMS Systems vary and so do the capabilities to connect with equipment that transmit data about themselves via the internet.
10. Should CMMS Software be chosen based on Industry-Fit?
Yes. In fact, we highly recommend looking at industry-fit rather than generic reviews. A CMMS software that is well adapted in your industry will offer you three advantages which are likely to influence its adoption in your business.
Worflow Fit – Whilst most businesses differ, they do have commonality between them within the same industry. Maintenance Programmes, Maintenance Reports, Technical Schedule, Spare Parts Replacement and many other attributes of a maintenance programme closely overlap within the same industry. You can leverage the effect of commonalities and overlap if you choose a system that is well adapted in your industry.
System Usage Fit – By choosing a CMMS App that is well adapted in your industry. You lower the risk of it being liked by your colleagues.
Lower Cost of Configuration – Most maintenance teams require some sort of CMMS configuration to address their maintenance management requirements. The chances of such customisations already being ready (and well-tested) are significantly higher if you choose a CMMS System that is used within industry.
11. Why do Maintenance Managers prefer a Web or a Cloud-based maintenance software?
Most people use the term web-based and cloud-based maintenance software interchangeably. A web-based software is different to a cloud-based software. A web-based software allows you to access your maintenance software over the web. The software can be installed on the cloud or on your servers in your office. VPN and remote access are the two most commonly used protocols of access with a web-based software.
Cloud-based software is installed on a cloud and can be accessed with or without the internet using Apps. Most cloud-based maintenance software have Apps that run on Apple and Android devices. Most maintenance management Apps provide offline access to maintenance data. Just to be clear, if you are not connected to the internet or a mobile network then you will not see live maintenance data but the last updated data.
Maintenance managers prefer a cloud-based CMMS software because it helps them to assign job orders, spare parts information, maintenance check-up routines, surveys to their team who can access the information from any device provided they have an internet connection. Their team can also access the last updated information if they are not connected to the web. This attribute of cloud-based maintenance software makes it easy for maintenance teams to be updated with their tasks and reports, hence cloud-based maintenance software is preferred by most maintenance teams.
Another element here is cloud-based CMMS software typically have less upfront costs than an on-premise system.
Just to be clear, this does not mean on-premise software is less useful. There are a number of situations where an on-premise software is much more effective than a web or a cloud-based software. For example; For defence or high-security maintenance situations where access to the internet can lead to cyber risks, an on-premise tool can be a safer option than a cloud-based tool.
12. What are the key benefits of a mobile CMMS system?
Mobile CMMS system or CMMS Apps offer the flexibility and ease to access maintenance information like work orders, job specs, incidents, spare part delivery information, maintenance surveys on a mobile device.
Maintenance engineers, technicians, external contractors can share work updates like photos, completion reports, scanning and tagging equipment, updating work orders on a mobile device which makes it easier to keep track of maintenance history.
External contractors can be given limited and relevant access of a mobile CMMS system. Allowing maintenance teams to share relevant information with external teams as required.
13. How to decide budget for a maintenance management software?
There are two ways to decide budget of a maintenance management software.
By the stage of your business.
By using the value of your equipment, machinery and assets.
1. By the stage of your business:
Most maintenance teams start maintenance management with a spreadsheet. In some cases manual paper based methods also act as a starting point. Typically, early stage businesses continue with manual methods, uptil the cracks in the manual methods start to affect their business considerably.
If you are a small business and maintenance is a critical part of your business then calculate the value of the known errors you have made. Let's say you have made 10 errors in the last 3 months, let's assume each error has costed you £150. So £1500 in known errors, double this for unknown errors which is £3000. Now because you are using manual methods you are losing out on £4500 every 3 months or £18,000 every year. £18,000 could be a starting budget for your CMMS software, so after the first year the CMMS system will pay for itself. Alternatively, you can just stick with the known errors calculation. In which case you are losing £6000 per year, hence the budget for your maintenance software can be £6000 per year.
2. By value of your assets:
As a general rule, you can extend the life of your assets by 10 to 15% with timely maintenance. If the current value of your assets is £2 million then you can add additional value of £200,000 to £300,000 with effective maintenance. Similarly, If the value of your assets is £5 million then you are looking at additional value of £1 million to £1.5 million. The starting budget of your CMMS software can be 20 to 40% of the overall value you are going to add to your assets.
The other elements which can influence your budget are;
Complexity of your maintenance programme.
Skillset required to perform your maintenance routines.
Spare parts ordering and replacement management.
Mix of planned, preventative, predictive and preventative maintenance management.
14. Why do the costs of CMMS software vary?
Totally agreed, the costs of CMMS software vary greatly. Costs vary from £9.00 per month per user to £4500 per user. The cost variance depends on the following factors;
Maturity of the system: Well adopted, well proven systems come at a higher cost.
Development Costs: In some cases, the development of the product is done in cost-effective locations which bring down the product development costs.
Key application of the product: CMMS software for asset-intensive industries like Oil and Gas, Chemicals, Pharmaceuticals are complex and hence have higher costs. CMMS software for simple facilities management or equipment management tend to have lower costs as the product is less complex.
15. Can you manage spare parts and replacement parts within a CMMS System?
It depends. However, most CMMS Software have a basic warehouse or a spare parts management capabilities. The depth of the spare parts management capabilities varies across different systems.
Off course, your definition of spare parts management is also an important factor. For some maintenance teams, spare parts management is ordering spare parts before replacement. For others, it is Ordering, Tagging, Van management, Warranty management, Spare parts stock levels to name a few complex and dynamic requirements.
Some CMMS software can even order spare parts automatically based on a predefined rule. Delivery management, Spares inspection management, Warranty rules and Work Order Information (related to spare parts) are some areas where a CMMS system can be impactful.
16. What is the easiest way to get the most out of a CMMS System?
The best and the easiest way to get the most out of your CMMS system is to continuously keep the data accurate within your maintenance system.
Data accuracy is a lot simpler than most teams think.  There are two key factors to keeping the data accurate.
Keep the data entry requirements to a minimum. Let your users choose information rather than type information. This will not be always the case but if you have a CMMS system that mostly allows data selection rather than data input then you are significantly controlling the data accuracy.
Train your users at least once every 3 months. The training need not be long sessions. Short 30 mins sessions over a breakfast or a lunch are really impactful. The short sessions should focus on data selection/data entry protocols and new features within your CMMS System.

---