Summary: Changing your current Asset Management Software may not resolve your core issues. Software is a framework, it's like an empty warehouse – how you arrange your asset data within it is really important. Before you decide to replace your current system, it's recommended to fully establish the idea that replacing it will have the desired impact.
Software upgrades are a regular occurrence in a business environment. They happen when small businesses require greater functionality to grow into mid-sized organisations, or when legacy asset management systems become too risky to operate due to cyber threats.
Legacy systems can be blamed for several cyber-attack disasters, including a popular Singaporean online supermarket which lost 1.1 million users' personal information and credit card numbers when a database was taken from an outdated legacy system. While in 2021, 50% of the UK Government's IT spending was to keep applications running on outdated legacy programs.
As well as for growth and security reasons, businesses opt to upgrade their Asset Management Software when:
More features are required to tackle complex issues
The software vendor isn't delivering on expectations
Users (external and internal) are finding the current system frustrating to use
The existing system has become inefficient and time-consuming
When the time does come to upgrade your existing asset management system, you'll want to keep in mind four important considerations.
Upgrade Your Existing Systems With the Best Asset Management Software
What Type of Assets Are You Looking to Manage?
1. What's Wrong With Your Existing System?
Quite often, the software is blamed for unorganised asset management. In practice, good asset management is tough and requires cohesion on the following:
An operational culture that realises the value of good asset management
Well-defined asset data and management processes
Clear KPIs that change as your assets/business evolves
Users who understand the value of good data
Management buy-in on looking at asset management as more than just numbers
Your software is an enabler of structured asset management – the software itself cannot change how you manage assets. It can certainly provide a foundation and a platform for asset data, but good asset management requires much more than just software.
Below are some of the questions to ask to fully evaluate if it's the software that needs changing:
Where is the core issue – is it incorrect asset data, software, or both?
Is it the system or the implementation of the software?
Are you using an older version of the software?
Are users fully trained on the current version?
Are you getting good account management/collaboration from existing software vendors?
Before opting for a system upgrade, the majority of the issues above can be mitigated with:
Cleansing asset data
Re-implementing existing software with new processes and less complexity
Updating the current system
Re-training users
Deeper and more meaningful interactions with current vendor
2. What's the Reason for an Asset Management System Upgrade?
Like 18% of Comparesoft users, you're thinking about upgrading your existing asset management system.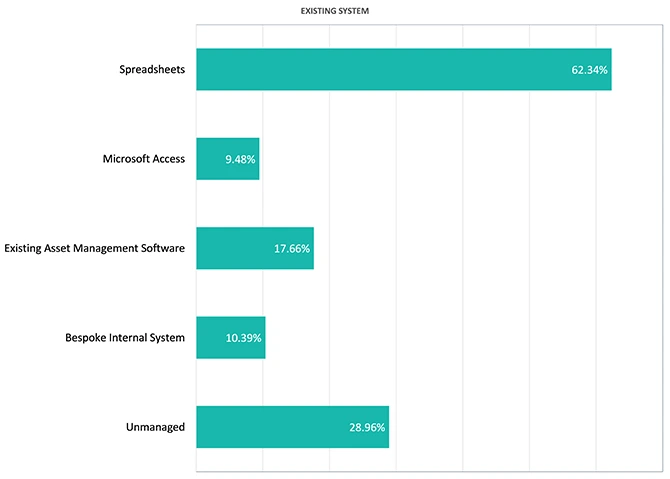 Really, you should only consider a change to your software if:
It is difficult to use
The current vendor is out of business
The software is not kept up-to-date
You have identified cost-effective options
The current software has limited asset management features
You are looking to deploy a system that is better than what you have
The current software is slow
You believe new software will help you to set a new direction and make a shift change in your asset management culture
Whilst a change in software can help you to set a new culture, direction, and tone for your asset management activities, a lot can be done with your current software too.
Use Our Asset Management Software Finder to Identify the Best Tool For You
What Type of Assets Are You Looking to Manage?
3. Don't Overlook Implementation
Implementation is the single biggest reason for the failure of asset management projects. Implementation typically fails because of three key reasons:
Unclear (or change of) expectations about what software can deliver
Decision-makers are not hands-on/deeply involved during the implementation process
Unfazed complex implementation instead of phased simple milestones
Simplicity is often overlooked in software implementation. Most people in the asset management sphere have started their journey with pen and paper, so keeping software setup simple is the surest way to get it implemented and used.
4. Upgrading an Existing System Should Be a Collaborative Effort
If you involve the following personnel during the purchasing process, the chances of it going wrong are minimal.
Users Who Are Going to Use the Software
Most implementation ideas will come from this group. It is also this group that will give you a clear idea of must-haves and nice-to-haves. Details like the ease of navigation, terminologies used, manual data checks, asset inspection protocols, and several other subtle details from this group can exponentially increase the chances of your success.
Process Managers Who Define KPIs
KPIs are defined at varying levels; one person's KPI is another person's data. If you involve this group, you can significantly improve the chances of setting up good reporting and alerts from day one. In practice, only a couple of reports are needed to drive effective asset management.
Support Team Members
This group of product people have witnessed multiple product set-ups. So they have a good understanding of implementation best practices. The group also has experience in resolving incidents. Often they can suggest setups that will get maximum usage. So getting their view often helps to simplify the implementation process.
A Vendor's Account Manager
Most account managers are competent and care about their customers. They may be less tech-savvy but they have a lot of information on system setups and the right contacts. They can get you the right people for your project.
Upper Management Giving Sign-off
Typically, management personnel are kept in the loop at key decision-making points. We recommend you involve them as much as possible. Whilst management takes a numbers-oriented view, informing them of how much effort and planning goes into its setup will help you to get wider buy-in and faster decisions.
Helpful Tips for Smoothly Upgrading Your Asset Management System
Inform stakeholders of the decision: Signalling to both internal and external users the decision to upgrade asset management systems will bring valuable feedback. By working together with end users, admin, hosting teams, office personnel and more, you can get an idea of what is expected from the upgrade.
Identify upgrade requirements: The reason for upgrading an existing system is to include more functionality, which comes through features and requirements. Make a list of what you expect to have in terms of features, tools, and integrations from the new system.
Make a plan: What is required of users? Who will perform the upgrade? What will the upgrade offer in terms of functionality? How long will the implementation process take? Will training be needed? What budget is required?
Get buy-in: By presenting a well-drafted plan to higher management that includes reasons for the upgrade and costs, it's more likely to be given the go-ahead.
Back up data: Whether on spreadsheets, written down in files, or stored on a legacy system, your data needs to be backed up. This ensures that if anything goes array when implementing the upgrade, your asset data is safe.
Run tests: By continuously running tests throughout the process of setting up a new system you eliminate the risk of potential system failures. It's important to allow stakeholders access so they can run tests too, as well as test compliance with external integrations.
Provide training: Support teams, inventory managers, asset managers, maintenance teams, and more will all be using this new system, so some form of training is essential. It is key to provide training before the upgrade is complete to allow for a better user experience when it eventually goes live.
Push the new system live: Once everything is ready, it's time to push the button and switch over the systems. Keep testing during this period and be sure to set up an area where users can report any issues.
Get feedback & reviews: Review the initial upgrade and implementation plan to confirm that the new system is delivering on all fronts. Also, keep checking in with end-users and customers to gauge their reactions and see if further action is required.
FAQs
When Should You Upgrade Your Asset Management System?
Businesses should consider upgrading their asset management system when the use of it becomes inefficient, time-consuming, or costly. It's also a good idea to gather feedback from both internal (employees) and external (customers) users who interact with the system, if they find it frustrating and cumbersome then it's time to change up your Asset Management Software.
What Is Legacy Asset Management Software?
A legacy system is a tool that is outdated, in terms of version and functionality, but is still being used within a business.
What's the Difference Between Software Upgrade and Update?
An update to an Asset Management Software solution is also known as a patch and generally consists of improvements to the current software or security enhancements. Whereas an Asset Management Software upgrade refers to replacing one software solution with another – one that is typically newer and provides more functionality and features.