Summary: Changing your current Asset Management Software may not resolve your core issues. Software is a framework, it's like an empty warehouse – how you arrange your asset data within it is really important. Before you decide to replace your current system, it's recommended to fully establish the idea that replacing it will have the desired impact.
1. Do You Really Need to Upgrade to New Software?
Quite often, software is blamed for unorganised asset management. In practice, good asset management is tough and requires cohesion on the following:
An operational culture that realises the value of good asset management
Well-defined asset data and management processes
Clear KPIs that change as your assets/business evolves
A good Asset Management Software
Users who understand the value of good data
Management buy-in on looking at asset management as more than just numbers
You may have already noted that the software is the only external component above. Whereas the rest are more organisational/internal components.
Your software is an enabler of structured asset management – the software itself cannot change how you manage assets. It can certainly provide a foundation and a platform for asset data, but good asset management requires much more than just software.
Below are some of the questions to ask to fully evaluate if it's the software that needs changing:
Where is the core issue – is it incorrect asset data, software, or both?
Is it the system or the implementation of the software?
Are you using an older version of the software?
Are users fully trained on the current version?
Are you getting good account management/collaboration from existing software vendors?
A lot of the above issues can be mitigated with:
Cleansing your asset data
Re-implementing your current software with new processes and less complexity
Upgrading your current system
Re-training users
Deeper and more meaningful interactions with your current provider
2. Key Reasons to Upgrade to New Asset Management Software
Like 18% of Comparesoft users, you're thinking about upgrading your existing asset management system.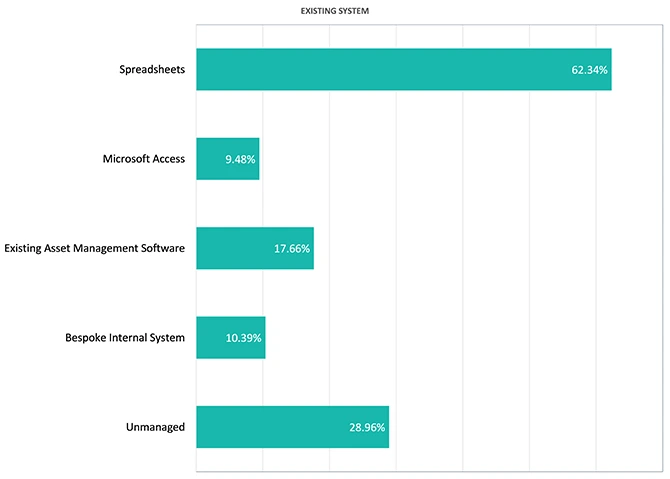 Really, you should only consider a change to your software if:
It is difficult to use
The current vendor is out of business
The software is not kept up-to-date
You have identified cost-effective options
The current software has limited asset management features
You are looking to deploy a system that is better than what you have
The current software is slow
You believe new software will help you to set a new direction and make a shift change in your asset management culture
Whilst a change in software can help you to set a new culture, direction, and tone for your asset management activities, a lot can be done with your current software too.
3. Why Implementation Should Be Your Key Focus
Implementation is the single biggest reason for the failure of asset management projects. Implementation typically fails because of three key reasons:
Unclear (or change of) expectations about what software can deliver
Decision-makers are not hands-on/deeply involved during the implementation process
Unphased complex implementation instead of phased simple milestones
Simplicity is often overlooked in software implementation. Most people in the asset management world have started their journey with pen and paper, so keeping your software setup simple is the surest way to get it implemented and used.
4. Get Collaborative For Complete Buy-in and Speed of Execution
If you involve the following personnel during the purchasing process, the chances of going wrong are minimal.
Users Who Are Going to Use the Software
Most implementation ideas will come from this group. It is also this group that will give you a clear idea of must-haves and nice-to-haves.
Details like the ease of navigation, terminologies used, manual data checks, asset inspection protocols, and several other subtle details from this group can exponentially increase the chances of your success.
Process Managers Who Define and Measure KPIs
KPIs are defined at varying levels; one person's KPI is another person's data. If you involve this group, you can significantly improve the chances of setting up good reporting and alerts from day one. In practice, only a couple of reports are needed to drive effective asset management.
Mobile Users Who Access the System From the Field/Remotely
Remote or field workers will give you the details on how to best set up tools for mobile access. Quite often the user interface is very complex and requires long scrolls/navigation for mobile users.
It is vital to fully understand what type of offline access your remote team requires. It is best to get their view on mobile setup to avoid a lack of adoption issues.
Support Team Members From the Vendor
This group of product people have witnessed multiple product set-ups. So they have a good understanding of implementation best practices. The group also has experience in resolving incidents.
Often they can suggest setups that will get maximum usage. So getting their view often helps to simplify the implementation process. Asking specific questions to this group is vital as generic questions will lead to getting generalised answers.
The Vendor's Account Manager
Most account managers are competent and care about their customers. They may be less tech-savvy but they have a lot of information on system setups and the right contacts. They can get you the right people for your project.
Management Signing-off On the Purchase
Typically, management personnel are kept in the loop at key decision-making points. We recommend you involve them as much as possible. Whilst management takes a numbers-oriented view, informing them of how much effort and planning goes into its setup will help you to get wider buy-in and faster decisions.
Upgrading Your System? Find the Best Asset Management Software For Your Needs