UK's Best Asset Management & Asset Tracking Systems for Small and Medium Businesses (SMBs)
Why Small Businesses Need Effective Asset Management
72% of small businesses have become digital in the last two years. Most have rightly focussed on serving customers digitally.
SMB's efficiency will double if the same digital adoption happens in managing assets. Yet, most SMBs find it tricky to invest time (mainly) and money in managing assets.
Small businesses have more to loose if they misplace an asset or do not make full use of an asset. Making the most out of every asset is at the very core of every successful small business. So small businesses often seek out any avenue to make the most out of every asset. The contrasting side to this thought processes is often small businesses are heavily time, resource and budget constrained. As a result following scenarios are often common in an SMB set up.
Lack of asset visibility.
Communication gaps arising from lack of asset visibility.
Consistent physical asset audits requiring considerable manual efforts.
Working with unstructured budgets.
Asset and its data sit separately which lowers overall confidence in asset data.
Reactive and high spending on asset maintenance
Most SMB's start with a spreadsheet to address the above asset register related issues. After a few months, most SMB's identify the pitfalls of using spreadsheets and consider a cloud-based asset management tool.
Identify the Best Asset Management Tools for Your SMB
What Type of Assets Are You Looking to Manage?
The Benefits of Small Business Asset Management
Collect Asset Data in One Centralised System
Assets can include physical items such as IT equipment, machinery, and fleet vehicles. As well as properties, land, and furniture. One key benefit of asset management is being able to manage an entire inventory in one place. Allowing asset managers to geolocate assets or check which staff have access to them.
An example is if you're storing and shipping products via a warehouse. Asset management software allows you to track assets using tracking technology such as barcodes, GPS trackers, and RFID tags. Allowing you to determine when inventory is low and letting you order more stock from suppliers. You could also see which aisle and row in your warehouse assets are located. Helping staff on the ground pick, pack, and despatch quickly.
Consider a small printing agency. Even though the number of assets is minimal, they still need to be managed effectively, as their printers are worth a great deal to their business. If one printer fails, the company would be operating at a lower capacity. An asset management system can keep track of these vital assets and automatically provide alerts for planned maintenance. Helping to keep them in good working order.
Eliminate Manual Methods
Small business asset management tools offer effective automation solutions, which help to eliminate manual processes and significantly reduce errors. On average, fraud and human error are costing businesses in the UK £98.6 billion a year.
Unlike spreadsheets, software enables quicker reporting and automatically checks the status of assets. It can alert staff when maintenance is required, as well as understand how much assets are worth according to depreciation value.
Automating your asset management has a positive knock-on effect on other areas of a business. Including finance, HR, procurement, and IT. Allowing employees to perform with more efficiency.
Access Data From Anywhere with Cloud-Based Apps
A beneficial feature of modern asset management software is cloud-based mobile apps. This enables an entire asset directory to be accessed by anyone at any time at any location. Unlike other non-cloud-based methods – such as spreadsheets.
Managers can check and update asset data from anywhere, using both desktops and mobile devices. This means employees can access and update inventory and log maintenance activities, as well as run reports in the field or on the go.
Asset Management Software Is Cost-Efficient
Although an asset management system will be an initial expenditure, it is cost-effective in the long run. Asset Management Software can reduce costs arising from unexpected repairs, or from having to replace lost or stolen equipment.
Because you can track assets so precisely, you'll also know where they are at all times. While routine maintenance scheduling helps prevent problems with equipment before they happen.
Out-of-the-box asset management tools might be sufficient for smaller businesses. As well as being cheaper than a highly customised solution. It also makes sense to opt for a standard solution if you're moving from a manual spreadsheet-based system.
Produce Accurate and Detailed Asset Data Reports
A management system can store detailed information, especially when compared to the limitations of spreadsheets and paper documents. It can easily log dates that assets have been purchased, inspected, and accessed by staff. Not to mention an asset's purchase value and current worth.
This means that when an audit is due, you'll have the necessary information to hand. Auditors can use these records to determine whether your accounts are financially viable. Even if your business isn't required to undergo an audit process, it's good practice to do this every twelve months.
Promote Small Business Growth Scalability
You might be happy managing your quota of thirty assets in an Excel file, for now. But, how will you cope in the future when you have hundreds of more assets to manage and track? As well as more members of staff editing and updating the same spreadsheet. Small businesses have one common goal; growth. Asset Management Software helps to scale for future business growth.
Shortlist Asset Management Tools that Meet Your SMB's Budget and Requirements
What Type of Assets Are You Looking to Manage?
10 Key Features Small Businesses Need to Successfully Manage Their Assets
The 10 features listed here are critical to ensuring the effective management of your small business assets. They're relevant to all types of organisations and industries such as manufacturing, retail, construction, and transport.
1. Asset Lifecycle Management
Effective asset lifecycle management can be found in most asset management and EAM systems. As a software feature, it is designed to help maximise the lifecycle of a fixed asset, from acquisition and usage to disposal.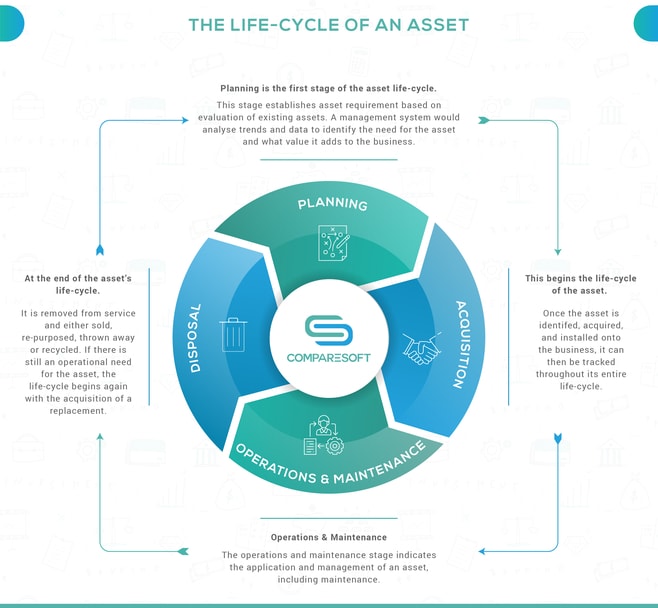 Asset lifecycle management helps to understand an asset's total cost of ownership and informs strategic planning and decision-making. For instance, knowing how much an asset costs to maintain or be replaced is crucial for your future budgeting and revenue.
2. Inventory Management
Inventory management is a useful tool for warehousing operations. It can help to track, manage, and control inventory all from a single dashboard. By doing so, users can view stock levels at-a-glance and be alerted when parts and supplies are running low. You can also re-order new items only when necessary and avoid stock levels becoming depleted.
3. Asset Tracking Technologies
To manage inventory effectively, assets need to be tracked. Asset tracking goes hand in hand with inventory management. Many Asset Tracking Software tools offer barcode, RFID, and GPS, where the software is used in conjunction with scanning devices.
4. Asset Check-In and Check-Out
This software feature is extremely useful for tracking the whereabouts of assets as they travel from department to department, or from site to site. For instance, if a company has hundreds of laptops, they'll need to know where they all are and who is using them.
The equipment check-in and check-out feature will log whether an asset is available for use and who used it last. If it's not available, they'll be able to see which employee has already checked out the asset.
5. Maintenance Management
If a small business needs to perform regular maintenance on its assets, a Computer Maintenance Management System (CMMS) can help. But, maintenance management features can be found in most asset management tools, too.
This allows users to plan preventive work and routine inspections to avoid costly unplanned downtime and to eventually move away from a reactive maintenance approach. Meaning assets experience less downtime overall, which can lead to significant cost savings.
6. Work Order Management
Some software features regarding work order management can be linked closely to that of maintenance management. Work order management helps to centralise work requests, providing visibility to the entire maintenance team. It also helps to make jobs more labour-efficient and can greatly improve response times.
For instance, a manager runs a heating and plumbing business that has a team of gas engineers on the road responding to jobs. Through work order management, they can identify which engineer is geographically closest to the next job and assign it to that person.
7. Centralised Dashboard
If a business is continually growing, then it can make sense to use an asset management solution that integrates other business functions such as finance and HR. This allows a business to see the overall view of all company assets and helps to understand their impact on other business areas such as budgeting and forecasting.
8. Asset Discovery
Asset discovery is commonly used in IT Asset Management. This feature helps to identify all assets within the same network. For instance, it can identify what software is installed and on which devices. It can also help with diagnosing faults with equipment and avoiding threats such as malware before they become an issue.
9. IT Help Desk Management
The faster a business grows, the busier an IT department can become. So, for employees to do their jobs effectively, they must have access to working equipment. An IT help desk management feature aims to centralise support requests, allowing technicians to prioritise issues and respond to problems accordingly.
10. Cloud-Based Mobile App
In the case of asset management and maintenance management, having access to a mobile app is beneficial for a business of any size. It means that designated staff don't have to be on-site to access and update essential information related to business assets. Instead, they can perform their work effectively at other premises, out of hours or on the go.
Identify the Best Asset Management Tools for Your SMB
6 Factors to Consider When Choosing a Small Business Asset Management System
1. Consider If You Need Asset Audits as a Service
Even if your business does not have a regulatory need to audit assets, most businesses benefit from a thorough asset audit once every six to twelve months. Auditing assets is even more important for a small business because finding asset auditing experience can be hard. So consider this option upfront.
2. Find a System That Takes Care of Fixed and IT Assets
In the asset management market, you will find that some products focus on fixed asset management and some on IT asset management. For a small business, a more profitable approach is to choose a system that allows you to manage both fixed and IT assets, along with basic asset tracking capabilities. This will enable you to get more return from your investment but also ensure that you have more visibility and control over your assets.
3. Involve All Stakeholders In Your Decision
A software solution that looks good may not be the one that gets used. It is important to involve all of your users right from the start. Most asset management systems have a good user interface – but your users are the best judge. Don't cut corners here, as full user adoption is very important to the successful management of your assets. Try to involve them during the search, shortlist, and demo stages of your decision-making process.
4. An Out-of-the-Box Configurable Software Is More Suitable
Asset management systems come with various configurable and customisable options. Configuration means changing field names and making minor tweaks like getting the right reports in place. Customisation is deeper; it can involve adding small software features to incorporate your workflows.
Where possible, try to stick to standard software with almost no customisation, as for a small business this is more cost-effective. Jumping from spreadsheets to a heavily customised solution can be a huge and time-consuming undertaking!
There are cases where customisation will save you significant overheads and in some cases even give you a competitive advantage. Software customisation comes at a higher cost and should only be considered if the return and the rewards are clear and tested.
5. Choose a Supplier Who Will Value Your Business
From a supplier relationship perspective, choose an Asset Management Software supplier who will value your business. Most companies have good account management protocols, however, a protocol is one thing and genuine care is another. Push hard for the small business references from your potential asset software suppliers to see if the supplier really cares.
6. Get a Clear Idea of Implementation Before Committing
Implementation not only means putting data into the platform but also understanding how your current workflows are going to be adopted. Think about data duplication, user rights, field names, and reporting.
Before you sign on the dotted line, try to ensure you have a good understanding of the implementation plan. Where possible, free trials and evaluation licences should be used to test out the implementation.
Ongoing costs such as additional users, cloud storage limits, support limits, training limits, new locations, and customisation costs can be hidden. Get clarity on all the possible future costs before you sign the deal.
Small Business Buyer's Guide for Asset Management Tools