Summary: Medium-sized businesses need greater functionality, more asset visibility across multiple sites, and better collaboration to meet complex asset management tasks – that's where Asset Management Software can help. Whether upgrading from an existing system or transitioning from spreadsheets, choosing the right asset management solution is critical to aid the continued growth of a mid-sized enterprise.
The journey from an SMB to a medium-sized business brings many changes such as taking on more employees, generating more revenue, purchasing more assets, and increasing spending.
This growth needs to be sustained. So, when it comes to asset management, questions are raised about how your most valuable assets are managed:
Do you provide the right accessibility for more users and teams?
Can you handle the significant increase in asset data?
Do you provide the tools to keep data secure?
Although your existing entry-level asset management tool was effective for managing a smaller subset of asset data, can it handle the complexity of your future operations – something that a more sophisticated AMS tool with more functionality would provide?
Why Medium Businesses Choose to Upgrade Their Asset Management Processes
For a continuously growing business, upgrading its asset management system seems natural. But, do you need to swap out your existing process for managing assets?
Here're three reasons why you should think twice before doing so:
1. Your Existing System Will Still Work
Whether you're using spreadsheets or an entry-level solution, your asset management system still works. Although the process may double in workload and time management, you're still able to track and collect asset data, report on asset performance, and calculate depreciation values.
2. Outsourcing Asset Management Can Be Effective
With your current system, it's most likely you're outsourcing your asset management. Having an outsourced system saves you time when it comes to analysing and reporting on data – particularly with financial decisions. It also saves you the cost of recruiting in-house financial and accounting personnel.
3. It's Helped You to Grow
You might believe that a new system is required to take that extra step when it comes to further growth. This might be the case if you're limited to data restrictions with your current product. But, if there are no user restrictions, why can't your current asset management system help propel you forward into a Fortune 500 company? After all, it's worked before, so it'll work again.
But, If you've decided it's time to take the leap and replace your existing process with something more sophisticated, you're not alone. 12% of all Comparesoft users have searched for a system to help manage their assets with a valuation of up to £25m.
While 17% of users need a new system to manage assets with a valuation of over £25m.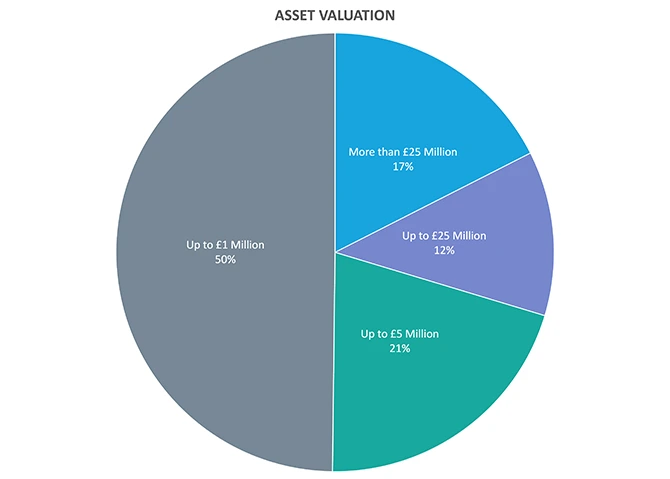 There are several reasons why mid-sized companies look to implement a new asset management system:
To decrease human error in data collection
Increase detailed financial and procurement decision-making
The need for more secure data management
Needing a system to work across multiple sites and locations
An overload of data that requires more storage space
Requiring separate asset management tasks for multiple departments
Wanting to bring asset management in-house for better security
Find the Best Asset Management Software For Your Mid-Sized Business
What Type of Assets Are You Looking to Manage?
How Mid-Sized Companies Can Benefit From Asset Management Tools
The substantial growth that a medium business has experienced and aims to maintain means the mindset of asset management has shifted.
Alongside simple tracking and analytical data, teams require a system that offers more flexibility to deal with new complex issues – something that a specifically targeted mid-market Asset Management Software can offer.
Store and Back-Up More Asset Data
Alongside growth comes the purchasing of more assets and the subsequent collection of more data. To keep up, you need a system that can handle a constant stream of new data. It also needs to provide the memory that allows you to back up asset data, in case of failure.
Data storage is a common issue with vendors, where they provide a solution that is limited to a certain amount of items. For instance, a smaller system would limit asset managers to inputting 1000 items. Whereas a more professionally-sized product would offer unlimited items to import into an asset management system.
Become More Fiscally Sound
Growth in operations and revenue also means costs can rise. When you take into account factors like purchasing, insurance, and recruitment, margins reduce. Asset Management Software provides a greater focus on what your assets are costing. That includes insurance costs, asset depreciation, and operational costs.
This allows financial teams to identify the TCO of your assets and see what assets are costing the most to run or maintain. Effectively, this leads to better decision-making when it comes to asset procurement and disposal. As well as greater cash flow management to help keep costs under control.
Work Closely With In-House Teams
A more enterprise-focused Asset Management Software will generate greater collaboration. Whereas your current solution may be limited to how many users can access data, a more professional system will have an unlimited user count.
An influx of new team members and departments will be accessing and uploading large amounts of asset data. They're more than likely spread across multiple sites and locations, too. These include:
Maintenance teams
Finance teams and accountants
Logistics and operations teams
Field service workers
Workshop employees
Increase Security Measures
As with all premium Asset Management Software, security and support features are upgraded. Products offer benefits such as 24/7 support and the option to encrypt data. A desire for tighter security might even mean investing in an on-premise asset management system with a dedicated support team on-site. Albeit as a more costly solution.
Research shows that 89% of ex-employees have access to at least one application from a former employer. Out of those, 45% reported having access to confidential data. While 62% of employees admitted to having access to data they shouldn't have.
This shows that whatever asset management solution you might choose, it needs to have an advanced security protocol in place for employee offboarding.
How to Choose the Best Mid-Sized Asset Management Software That's Suited For You
When choosing the best Asset Management Software for mid-sized businesses, there are five key points to consider:
Find the right vendor for you: Make sure you have a conversation with the vendor and understand if they've worked with businesses of a similar size and growth capacity to yourself.
Choose a product that has the features you need: The features you require now will be different to the ones you required when first starting, so make sure the product offers the ones you need to sustain growth.
Make sure the new system aligns with your budget: Whether it's paying per user or on a monthly subscription, ensure that the cost of your new system can be covered for its entirety.
Set aside time for user training and support: New systems will require training for both management and staff, so it's important to know if the vendor supplies training days or online courses.
Build a strong and detailed implementation plan: Implementation for a mid-sized software product can average between 2 and 24 weeks, so be sure to plan for when the system will be launched.
Once you've found a system that matches your requirements, you'll want to consider how best to upgrade from your existing process, be it spreadsheets, pen-and-paper, or an existing solution.
Upgrading From Spreadsheets
62% of Comparesoft users manage their assets via spreadsheets – like Excel and Google Sheets. So making the switch from spreadsheets to software is a much tried and tested process for software vendors and business owners.
Depending on the system, the typical process of migrating from spreadsheets to a software solution would be to export all existing data from spreadsheets in a CSV file type. That file is then uploaded into the asset management tool and the data is ready to use.
Upgrading From Pen-and-Paper
Like spreadsheets, there is a substantial userbase for manual methods with 30% of Comparesoft users monitoring their unmanaged assets with pen and paper and on whiteboards. Upgrading from a pen-and-paper approach can be a tedious and time-consuming task, but one that can reap the benefits the most.
Essentially, all asset data that has been written down has to be transported to the software tool. That includes fields of various information, file attachments such as manuals and purchase orders, and images.
Upgrading From An Existing Asset Management System
Moving from an existing asset management system to a new one is a simple process. Most of the time the vendor of the new system will handle this transition as part of a payment package. As both systems will have similar characteristics, once your existing data has been downloaded it is input into similar field names and files in the new system.
Use Our Asset Management Software Finder to Identify the Best Tool For You
What Type of Assets Are You Looking to Manage?
FAQs
What's the Best Asset Management Software for Medium Businesses?
The best Asset Management Software for medium businesses is one that offers more collaboration between users and provides greater flexibility when faced with complex tasks, as opposed to asset management tools used for small and micro businesses – whether that was spreadsheets, pen and paper, or a budget asset tracking system.
What Is the Cost of Asset Management Software for Mid-Sized Businesses?
For medium-sized businesses with 50 to 250 employees, the average cost of Asset Management Software ranges from £75 per user per month to £399 per month. While implementation will vary from 2 weeks to 24 weeks.