What Is Digital Asset Management: Digital asset management is a process used to easily and securely store, organise, distribute, and archive digital files such as video, photos, copyrights, and documents. This process is executed through a digital asset management (DAM) system, which acts as a central repository for all digital files.
A DAM system is used by agencies, tech companies, eCommerce businesses, photographers, and other industries that are reliant on their digital assets. It helps to improve areas such as photo asset management, video asset management, and more.
Digital asset management – also referred to as media asset management (MAM) or digital content management (DCM) – is historically associated with the tracking of images, videos, and media files. Today, though, it covers a vast array of electronic files including presentations, podcasts, spreadsheets, copyrights, analytics data, and NFTs.
The evolution of electronic files has been quick and constant. Meaning that asset management solutions have had to keep up with these changes. DAM is important for several reasons, with the key factors being security and easy accessibility.
Why a Digital Asset Management System Is Important
Digital assets have stark similarities to their physical counterparts, particularly when it comes to management. They must be stored, organised, managed, and distributed in the most effective way possible. By doing so, only then can they and your operations reach their maximum potential.
There are many different paths that businesses take to manage their assets. These range from spreadsheets, to whiteboards, to pen-and-paper, to software. The latter being the most proficient in terms of overall efficiency.
No matter how you choose to manage your digital assets, the benefits are the same:
Increase visibility
Improve production cycle
Less time spent searching for lost or misnamed digital files
An increase in company-wide standardisation
Efficient redistribution of intellectual property
Allow for ease of use and accessibility
Provide greater security
Without effective digital asset management protocols, there are several challenges you are likely to encounter. Without the security and encryption features of a DAM system, files can become corrupted and exploited. Documents can also be accessed and shared by the wrong users if they're not properly tracked.
The Four Stages of a Digital Asset Life Cycle
By closely monitoring your digital assets, you can analyse and track the lifecycle of each file. A lifecycle refers to an asset's journey from creation to expiration, which can be broken down into four stages: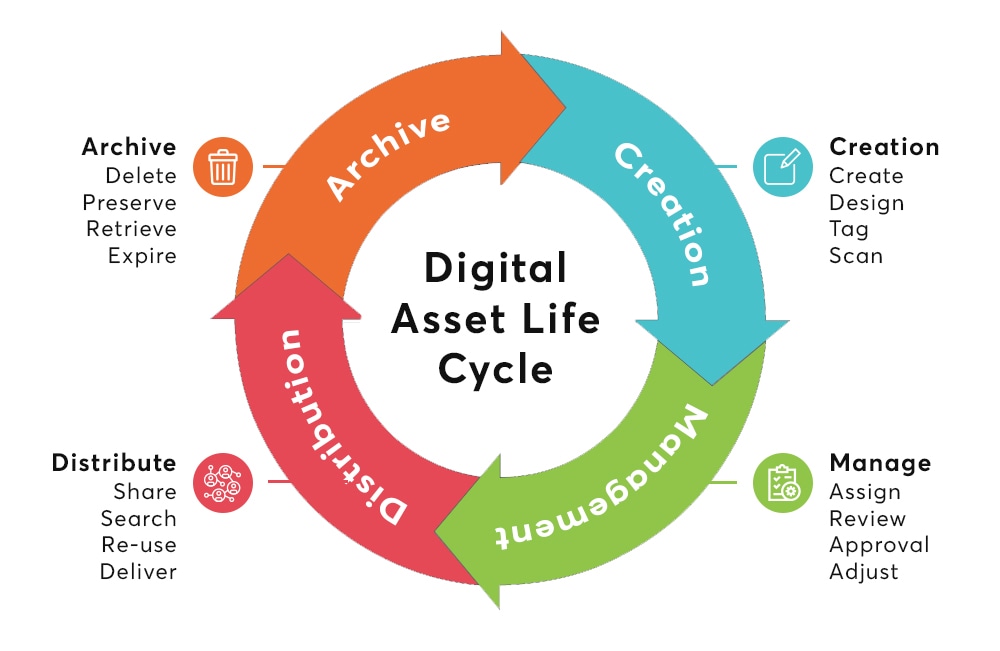 1. Asset Creation
This is when a concept is brought to fruition resulting in a design, drawing, written document, photograph, or video. It may also be an action, such as scanning a paper document.
2. Management
Once created and recorded with a unique identifier, managing an asset can begin. This includes the approval of a design or document, minor adjustments, or further updates.
3. Distribution
This stage involves the distribution of a digital asset to employees or the general public. Consider the government's coronavirus messaging campaign in 2020. This involved countless digital assets, ranging from social media graphics, video addresses, and informative articles. Each asset would have first been sent to various teams for publishing.
4. Archive
Then comes the point where a digital asset reaches the end of its life. This is the time when an asset is no longer relevant and therefore becomes outdated. Having a proper process in place for dealing with obsolete digital assets is crucial.
What Is a Digital Assets In Your Business?
Digital assets are electronic files used for a variety of different purposes in business activities. They're either owned by an individual or a company, they provide a valuable resource to an operation, and they're discoverable via metadata.
Digital assets are accessed daily by employees, shared between devices, and purchased by consumers. They include:
Images
Videos
Audio
Podcasts
Social media graphics
CAD drawings
Presentations
PDFs
Spreadsheets
They can even be used for financial exchange, with digital assets being used as currency since bitcoin's beginnings in 2009.
Today, digital assets make up the core of most business operations. 74% of marketing operations already rely on the use of their electronic files. While a 2021 Deloitte survey suggested digital assets will be very or somewhat important to their industries in the coming years.
Every company has electronic files, and ownership of them can be spread across different departments. For instance, a marketing department is usually responsible for the creation and management of promotional and branded media. In contrast, an HR department would typically look after employee documents and training guides.
The acceleration in the use of digital assets has helped catapult the value of the DAM market. Its market value was estimated at $113.2 million in the UK in 2015. Since then it has grown exponentially, with the global market of cryptocurrency being worth $2 trillion alone (August 2021).
The Benefits and Risks of Using Digital Assets
The use of digital assets can have several benefits for business and individuals such as photographers:
They're quick to access
They're easy to discover
They can be shared with multiple users at the click of a button
Using digital assets also helps to save on costs and improve time management. Less space is needed for storage, unlike physical assets, and less time is wasted tracking down assets, particularly if they're searchable on a database with detailed metadata.
However, owning digital assets can pose challenges too. One of which is dealing with security threats. Without the right network security and management solution, your digital assets will be at risk from hackers and data breaches. This means sensitive documents, financial information, and user data could end up in the wrong hands.
Using a Digital Asset Management System
Depending on your budget and size, there are different ways to manage digital assets. Away from more manual protocols, there is Digital Asset Management Software – a type of Asset Management Software.
DAM Software empowers users to bring together inventory, financial, contractual, and risk management. This supports strategic decision-making and asset lifecycle management, ensuring that all digital assets fit your operating needs. A DAM system has three main functions:
Asset management
Archival
Publishing
Here're three key features you'll come across in a robust DAM system and how they can work to support digital asset management:
1. Registering Each Digital Asset
Each digital asset is assigned a unique identifier upon creation in a digital database. This helps to avoid duplications and makes each asset more searchable, meaning you'll spend less time searching for content and more time being productive.
Within an asset register, you can log all types of additional data about an asset. A register is seen as a digital storage system or database. This includes an asset's purpose and where/how it should be used. As well as metadata, photo licensing details, and version control numbering for individual documents.
2. Access Management
This feature allows you to set up permissions and approval rights, meaning only the relevant parties can upload, edit, use, and distribute your digital assets.
By assigning user permissions, you can ensure that digital assets aren't used without authorisation, or incorrectly. When they are no longer relevant, they can be archived.
Take the franchise restaurant group, Five Guys, for example. Before finding a DAM system, they stored branding assets in multiple locations like Dropbox, personal computers, and hard drives. When it came to sharing assets, large files had to be distributed via WeTransfer. But, a digital asset management solution allowed them to centralise their files and share them with a simple link.
3. Asset Tracking and Lifecycle Monitoring
With DAM Software, you have greater visibility over your digital assets. You can track their performance at each stage of their useful life, which enables different parties to identify when new content needs to be created or existing assets repurposed. You can also set expiration dates for when files should no longer be used.
Find the Best Digital Asset Management Software to Manage Your Digital and Media Assets