CMMS is a specialist software for asset maintenance.
CMMS systems have been around for more than 35 years. Before CMMS systems, Punch cards were used to remind factory technicians to complete tasks. Mainframe computers and the emphasis on automation introduced CMMS Systems which automated the manual processes in a few core areas like Work Orders, Inventory control, and Preventive maintenance.
So, What does a CMMS do?
CMMS automates almost all of the maintenance planning and execution processes.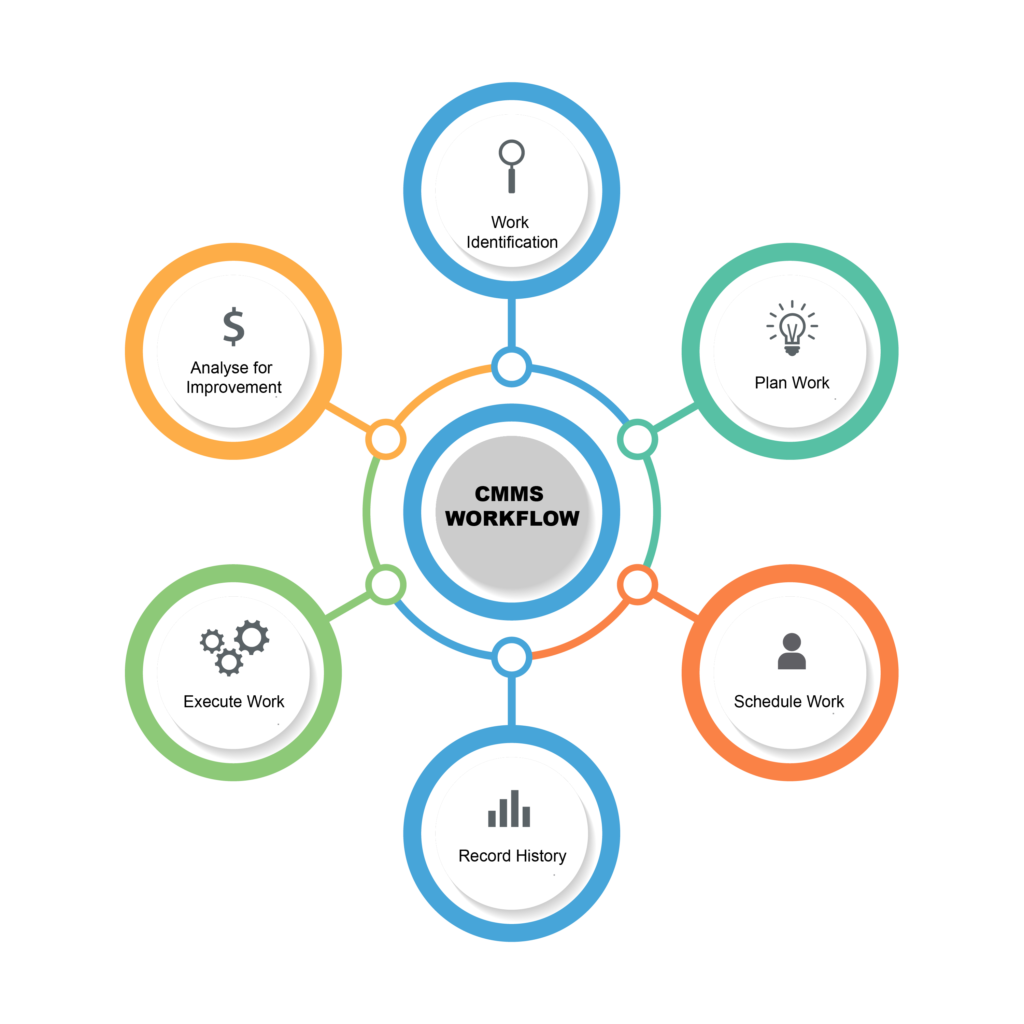 Basic CMMS Workflow Components
#1 Maintains Asset Register:
Basic and advanced asset details, maintenance records, service management schedule, work plan and details of service/maintenance engineers are recorded in a CMMS system. Typically you also have an opportunity to link relationships between engineers, assets and their maintenance history.
#2 Drives Proactive and Preventive maintenance:
Maintenance costs can be optimised by 12 to 18% by controlling maintenance cycles. CMMS provides the platform and the workflow to manage your maintenance cycles – be it a reactive, proactive, preventive or preventative maintenance cycles or instances.
#3 Streamlines Work order management:
Maintenance management involves internal and external work orders – they can be resource oriented and/or material oriented. CMMS provides the workflows to manage and report on your work orders.
#4 Provides Visibility for Inventory management:
CMMS keeps track of details like part numbers, description, supplier and spare parts of equipment. They can also provide alerts if the inventory falls below a pre-defined threshold level.
EAM is about asset lifecycle management (which also includes asset maintenance)
EAM Software takes a holistic view on assets involving procurement, operations, productions and disposal of assets.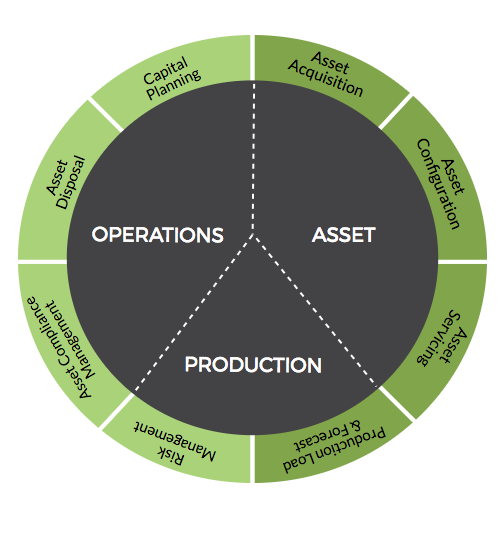 #1 Asset lifecycle planning and analysis
EAM offers 'financial planning-to-disposal' lifecycle management of assets. It maintains information on every stage of asset status. For example; procurement records, maintenance management records, compliance and asset disposal details.
#2 Configuring Asset Workflows
An asset is viewed differently by different teams. Production team view an asset as a means to drive their production, maintenance to optimise asset uptime, finance for asset profitability and compliance team to ensure safety. EAM offers different asset perspectives based on your role/department. One can plan inspection, track warranties, track high priority work order statuses, reasons for delays and overdue notifications amongst other features.
#3 Links Asset Uptime with Production and Profitability
Since EAM has a 360-degree view of an asset, it is equipped to link asset uptime and asset life with profitability. The value of assets needs to be recorded/updated on a continuous basis for accounting purposes. EAM provides a vital framework to value your assets across its lifetime.
EAM is a tool to manage the lifecycle of an asset and hence is an enterprise tool. CMMS is a niche maintenance specific tool and is widely used by maintenance or service management teams.
As a trend both EAM and CMMS vendors are adopting capabilities to understand machine to machine connections. Whilst EAM and CMMS software for a long time had the capability to be connected with plant equipment using SCADA or Data Historian. The contemporary trend is to derive intelligence from the data rather than just collect the data.