Believe it or not, your asset management culture is a key asset optimisation success factor.
Asset management culture is like the wind—you know when it is with you or against you. You can only feel it, can't touch or define it. Dieter Zetsche (Chairman of the board at Daimler AG) suggests culture is a bottom-up phenomenon rather than a top-down characteristic. 
For example, ensuring your service engineer checks historic diagnostic reports of your assets is a cultural thing rather than a procedure or a protocol thing. Your maintenance engineer being appreciative of the production or order book targets is a cultural thing. Ensuring your procurement team maintains frequent contact with your asset suppliers is also a cultural thing.
 
The culture of your asset workforce—technicians, service engineers, maintenance engineers and production supervisors—is a pivotal success factor in your asset optimisation journey. 
At an abstract level, Geoff Hales (Director and Principal Infrastructure Asset Management Consultant) of Barnewall Resources suggests a good asset management culture exhibits the following:
1. Customer-focused
2. Stewardship of assets and resources
3. High level of motivation
4. Desire to learn and improve
5. Innovation
6. Proactive
7. Teamwork, and good understanding of one another roles
One of the biggest reasons culture needs to be a strong focus is because most organisations have siloed structures. In many cases, people from one department do not have the right appreciation for the type of work that other departments do. 
According to MunichRe (a very well-known industrial insurer), the top root causes of failures of electrical equipment are loose connections, dust, moisture or humidity, supply line surges, insulation deterioration and overload conditions.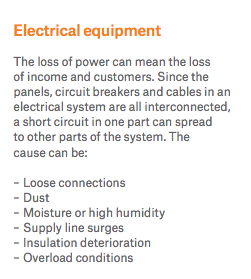 There is very little a software can do to avoid loose connections, dust, moisture and insulation deterioration—only your workforce can spot and fix these in advance, if you have developed the right culture. 
Asset Management Culture is doing small things related to your assets in a timely fashion. 
Whilst culture eats strategy for breakfast, this does not mean you shouldn't adopt a well-thought-out (yet flexible) asset management strategy. 
ISO 55001 is a proven and well-thought-out asset management strategy development framework for asset-intensive industries. Cyrus Sorab, Watson IoT – Technical Sales Manager (UK & Ireland) at IBM suggests that the applicability and practicality of adopting ISO 55001 is largely applicable to asset-intensive industries.
 
ISO 55001 suggests taking seven different viewpoints to developing your asset management strategy. They are:
1)    Context of the Organisation
2)    Leadership
3)    Planning
4)    Support
5)    Operation
6)    Performance Evaluation
7)    Improvement
 
Dong Energy, London Underground and Scottish Water are some of the well-known companies who have adopted ISO 55001 framework.
 
The key element to appreciate with ISO 55001 is that it is a tried and tested framework/standard to develop your asset management strategy; it is not the strategy itself.  
 
Another framework or standard to consider when developing your asset strategy is PAS 55. PAS 55 was the basis for developing ISO 55001. If you are in Utilities, Transport, Mining and Process Manufacturing, PAS 55 is worth exploring as it was developed by fifty organisations, mostly from the mentioned industries. 
From researching asset management strategies for Network Rail, Kent County Council, Cheshire Police, London Underground and eighty other asset-intensive companies, we observed that many asset-intensive companies develop their asset management strategy for at least three years, while most are for five years.
 
Whilst there are risks to developing long-term asset management strategy as in most cases business fundamentals change over a three-to-five year period, successful asset-intensive companies blend their asset management strategy with their customer acquisition/satisfaction plan. This helps them to address any strategic shift (which is a fancy word for course correction).
The most successful strategies have clear targets. I refer you to an example of asset management targets from Kent County Council.  Another great example is from Network Rail; they not only publish their targets but also publish planned vs actual.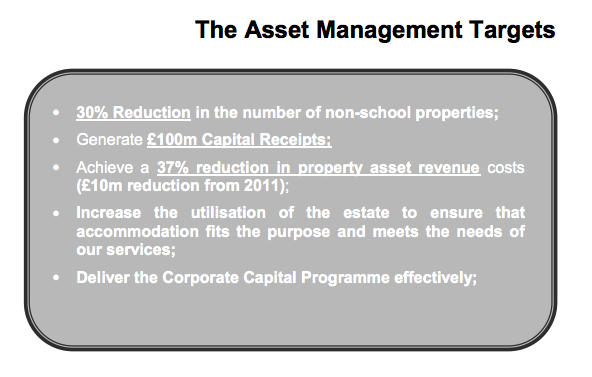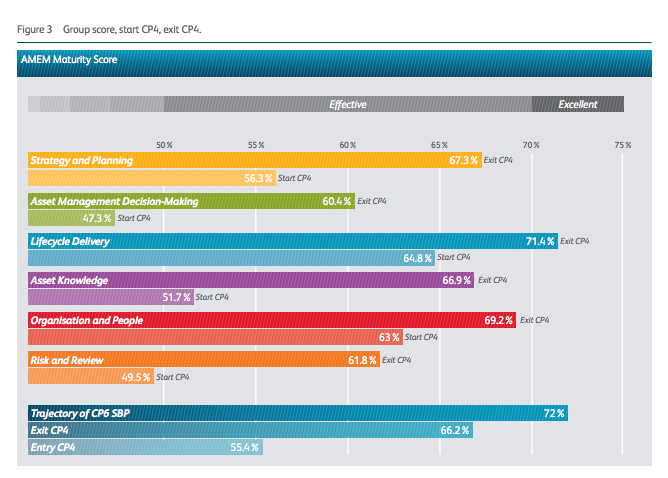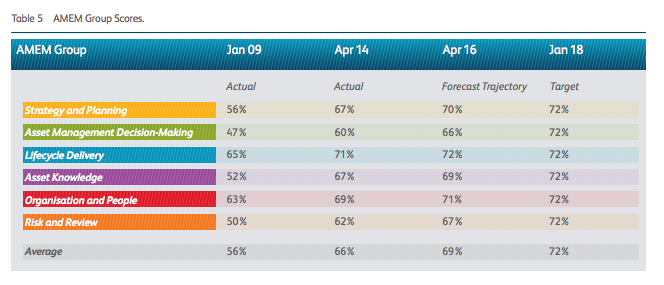 Asset Management Software will be your execution enabler if you have committed to your asset management culture and strategy.
 
Once you commit to your asset management strategy, typically you need to then transform your strategy into everyday processes and capabilities. This is where your software will make things easier for you. A complex maintenance process can be easily automated using most modern asset management solutions.   
 
An example of how asset-intensive companies blend strategy and tools can be viewed with National Grid's video.
Another key value proposition of using an asset management software is that you can track planned vs actual progress in a systematic manner across all your asset management processes and capabilities.
Whilst there is no doubt that software's capabilities to automate are increasing with machine-to-machine connections, augmented reality and self-diagnostic capabilities, they are still an enabler of your asset management strategy and are a part of your asset management solution, not the solution itself.