Updated: May 2021, August 2021, January 2022
Almost all Facilities Managers, IT Managers, and Financial Managers use a similar approach to shortlisting Asset Management Software options.
The typical process starts at a well-known search engine (usually Google, Yahoo or Bing), where a search term such as 'asset management software' will be entered. Search engine users will usually only click on the first few paid and organic search results.
Most people researching their asset management options do not look beyond page one of the Google search results. To put this into perspective, Google typically lists 59.2 million search results and most users only look at the first few results.
Looking for Asset Management Software?
Compare the best AMS solutions in the UK. For FREE.
The core reason most people don't look beyond page one is that it takes significant time to look through each and every search result. Not all of the results will be vendors, and it takes time to go through and identify the websites of interest.
Reviewing each website can take anywhere between 10 and 20 minutes. Our researcher, now somewhat tired of the research process, will wearily fill in a 'contact us' form at each website to get product information.
Once the product information is at hand it is then necessary to sit through seemingly-endless video demos and sales meetings to (finally) get pricing information. This is done with a few vendors to come up with shortlist of asset management software options. The overall timescales vary anywhere between a few days to some weeks.
We feel tired simply writing about that research process, let alone carrying it out.
Why is researching asset management software so tedious when it takes less than two minutes to shortlist holiday home options on Airbnb or scan options for a new home on Rightmove?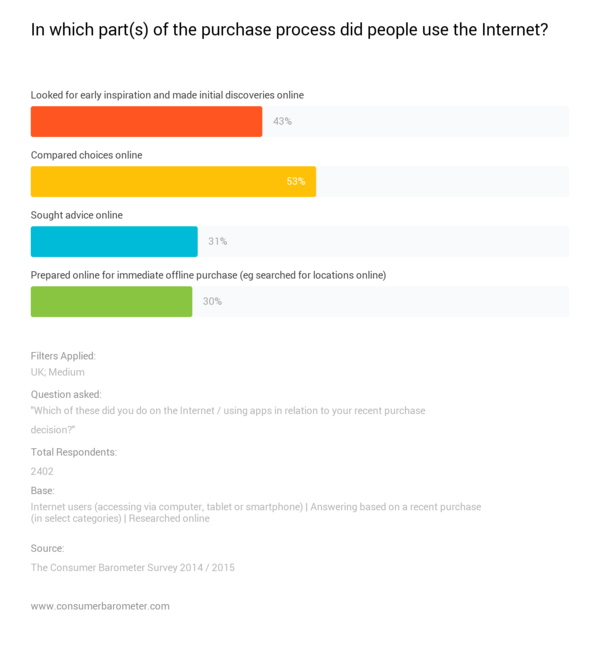 Google says 53% of users compare options online
Demos and product images of asset management software are available on the web, implementation timescales and pricing info are available on industry forums so shortlisting asset management software options should not be painful.
Written by Pooja Sahu