---
#2 Consideration Stage
This is where the actual vendor contact begins. The search behaviour here is more focussed, so businesses look for asset management software by industry type or Asset Management Software with particular features. Vendor contacts typically happen via online channels – a 'contact us' form, chat or emails.
Users look to validate their online research experience via offline/online touch points. The communication frequency and quality is critical to building strong relationships with prospective customers.
Asset Management Software vendors can utilise the social media tools to understand their prospective customer's needs and intentions. For example, a LinkedIn profile can provide a comprehensive insight into the contact who has made an enquiry—elements like the contact's tenure in his current role and previous experience in a similar role provide a lot of qualitative information.
The Twitter feed of your perspective customer can provide an insight on how they market themselves and if there are any common chords that can be used to provide a better asset management software experience.
At this stage, businesses are looking at five to seven asset management software options with a view to shortlisting the most relevant suppliers. Hence it is critical to maintain requirements relevancy in all your communications—emails, calls, online meetings and offline meetings.
Using relevant case studies and testimonials at every touch point typically tends to add a lot of confidence in your offering. Typically this stage is managed by Inside Sales Organisation from vendor organisations.
---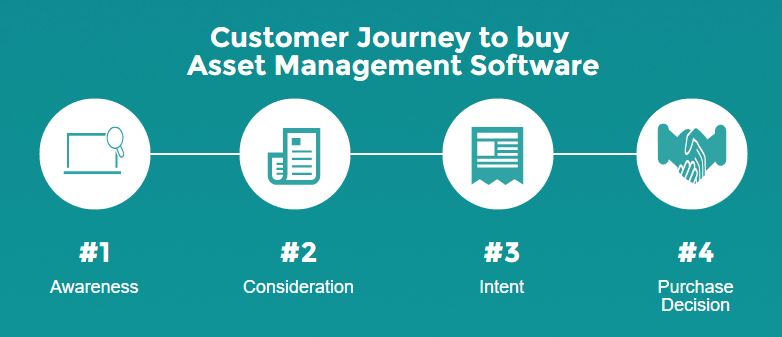 #3 Intent Stage
The intent phase is where the search behaviour is very specific; users typically take up brand search in this phase. This phase can also be termed as the validation stage—your prospective customers are mainly looking to get continued confidence in your asset management software solution.
In this phase as per Google's Customer Journey Tool, social media, generic paid search, referrals, organic search, email and brand paid search play a critical role.
During the intent stage, prospective customers look at details surrounding their shortlisted software options, i.e. they will closely look at the company, product and software implementation.
Quite often during the intent stage, requirements change. As a result prospective customers may revert back to the awareness stage.
During this stage it is important to ensure that requirements are clearly defined and agreed—this in itself can differentiate your position from your competitors.
At this stage, typically the shortlist includes two or three asset management software vendors. Decision makers from your prospective customer's organisation start to get involved and this is a sign that you are entering purchase/final stages of the intent stage.
---
#4 Purchase or Procurement
Reference checks, final demo meetings, implementation agreements, pricing and payment schedule alignment are the final steps before the purchase.
Customers look forward to post-sale activities from this stage.