Asset maintenance is the action taken to ensure a business's assets – whether that be equipment, facilities, machinery, or vehicles – are kept in optimal working condition for as long as possible without affecting operations.
Essentially, there are three signs that indicate an asset maintenance plan is required:
Rising repair & breakdown costs
Constant unplanned downtime issues
Regularly replacing ageing assets
Over 80% of companies experience unplanned downtime of critical assets once every three years due to failed asset maintenance protocols. Without a maintenance plan, businesses will feel the pinch. Broken-down equipment will result in production lines being halted, repair costs will go through the roof, and workspaces can become unsafe for employees.
But, by implementing a successful asset maintenance plan, businesses can ensure the availability, performance, safety, and reliability of a business's most mission-critical assets.
Build a Successful Asset Maintenance Plan With Asset Management Software
What Type of Assets Are You Looking to Manage?
3 Clear Signs You Need an Asset Maintenance Plan
1. Rising Repair & Breakdown Costs
Without regular servicing and inspection, physical assets will deteriorate. This impacts their performance and overall output with the need to repair an asset to restore it to its optimal working condition.
If routine maintenance isn't planned for, assets will break down unexpectedly, which results in high repair costs. That includes engineer call-out costs, ordering spare parts on next-day delivery, and a dip in production as you wait for that asset to become operational.

Image Source: https://www.maintworld.com/
2. Unplanned Downtime Is an On-Going Issue
Planned downtime is a good thing, it allows engineers to upgrade machines and replace worn-down parts in a planned period. However, unplanned downtime is a different story.
Unplanned downtime occurs when equipment or machinery unexpectedly breaks down. Not only does this halt production, but it also requires emergency repairs – something that isn't always in the budget. In 2005, the automotive industry lost $22,000 every minute due to unplanned downtime alone.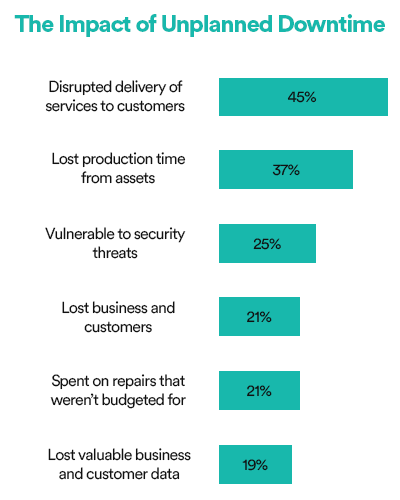 3. The Rate of Ageing Assets Is Increasing
Disposal and renewal are the final stages of asset lifecycle management. Once an asset has served its purpose or is too costly to repair, it is replaced. Although the ageing process is natural, the rate at which an asset ages shouldn't impact its integrity. If asset integrity is decreasing, it's time to consider implementing a working maintenance plan.
How to Build a Successful Asset Maintenance Plan
1. Highlight Assets That Require Maintenance
Having an asset register gives you extensive access to valuable data. This makes it easy to identify assets that require regular maintenance. This data will help to locate assets and see how they're being used. As well as knowing when they were purchased and how much they cost to run.
2. Analyse Historical & Current Condition
By having access to historical and current asset condition data, an asset manager's role is to understand each stage of an asset's life cycle. As well as identify the type of maintenance required to extend its period of optimal working performance.
For instance;
How much wear and tear has it incurred?
How many operational cycles has it performed?
And how many services and repairs have been performed?
3. List an Asset's Purpose
An asset's intended purpose should be visible at all times. This enables more focused decision-making and lets stakeholders know how important an asset is to a business's overall operations. This means they're aware of any potential impacts when an asset is temporarily disabled.
This data is integral when building an asset maintenance plan. Asset managers should know how long maintenance will take, if it will be performed outside of operating hours, and how costly downtime will be.
4. Choose a Suitable Maintenance Strategy
There are several maintenance strategy types to choose from such as reactive, preventative, and predictive. Choosing which strategy is best depends on multiple factors. Asset managers can also choose to edit a maintenance strategy and focus on specific elements.
For instance, if you choose a preventive maintenance plan, there are different types to consider. These include time-based, usage-based, and failure-finding maintenance. As well as having the right data to formulate a maintenance plan, you also need:
A clear set of tasks and instructions to carry out the maintenance
In-house engineers or external contractors
Available spare parts
A clear time frame for asset downtime
5. Monitor Asset performance
Once a plan is in place, it's important to continuously monitor asset performance. By doing so, asset managers can get a clear indication of how, or if, the plan is working. Performance can be measured by comparing the condition of an asset after a set number of intervals. As well as comparing the costs incurred when it comes to breakdowns and repairs.
Use our Asset Management Software Finder to Help Create a Successful Asset Maintenance Plan
What Type of Assets Are You Looking to Manage?
Why Leading Businesses Prioritise Asset Maintenance Management
Planning for asset maintenance will help to control spiralling repair costs and unplanned downtime. There are a few ways that businesses choose to conduct their asset maintenance management. One way is through the use of Excel spreadsheets, which are still used by 52% of facility managers.
However, to increase the chances of implementing a successful asset maintenance plan, it's best to use a sophisticated and dedicated solution. This could be a CMMS, EAM Software, or Asset Management Software. These tools help to:
Slow asset depreciation
Prolong the life of ageing assets
Reduce emergency repairs and breakdowns
Increase asset performance and reliability
Improve workplace health and safety
With a method in place to effectively plan for maintenance, businesses will see various improvements.
Increased Asset Performance
As equipment and machinery run continuously, routine maintenance is key to prolonging asset performance. It's important to keep assets in an optimal working window for as long as possible. This is achieved through regular services, checks, and inspections. Instead of waiting for an inevitable breakdown, businesses can plan for a proactive approach by knowing when to replace worn parts while still in operation.
An Understanding of Asset Lifecycle Management
To build an asset maintenance management plan, a lot of asset data is required. Through the data collection process, businesses can get a clear understanding of each asset's lifecycle stages. This allows asset managers to better calculate asset values and plan for the disposal and procurements of assets.
Delivering on Asset Integrity
Instilling a maintenance plan throughout the workplace is a big step towards achieving asset integrity. It helps to ensure all assets are operating in the most effective, safe, and accurate way possible. Asset integrity management (AIM) is a term synonymous with enterprise businesses such as oil and gas, infrastructure, and large-scale manufacturing.
Examples of Successful Asset Maintenance Strategies
A maintenance strategy will differ depending on factors such as asset type, asset value, business size, and budget. But, there are several examples of maintenance strategy types that can be considered:
Preventive: A preventive asset maintenance strategy involves regular and routine maintenance to reduce the likelihood of equipment failure.
Predictive: Predictive asset maintenance uses IoT sensors and devices to prevent asset failures through the use of data analytics.
Condition-based: Similar to a predictive approach, condition-based monitoring uses sensors to monitor moving equipment in real-time and determine when maintenance needs to be carried out.
Reactive: Although shunned by most maintenance teams, reactive maintenance is the strategy of repairing an asset only once it has failed.
How to Utilise an Asset Maintenance Management System
Having access to the right asset data enables businesses to analyse their asset performance and conditions. Whether it's written on notepads, whiteboards, or stored on spreadsheets. This is where Asset Management Software shines.
Asset Management Software provides the capabilities to input, share, and edit data in one place. Essentially building a centralised asset register. Collected within an asset register is the data needed to build a successful asset maintenance plan.
Asset Identification
The key element of an asset register is identifying the assets in a workplace. As well as knowing how much of something is in stock. Each asset can be categorised depending on its importance to your operations.
Real-Time Asset Location
With asset tagging and tracking tools, asset managers can view an asset's real-time location. Not only does this help prevent loss and theft, but it also increases asset visibility. Knowing where an asset is located lets technicians know where to go to carry out tasks.
Know the Condition of an Asset
Knowing the condition of machinery and equipment helps determine how an asset is performing, when it needs repairing, and when it will most likely fail. All of which are key to building a maintenance plan unique to each asset.
Know the Total Cost of Ownership
An asset's total cost of ownership (TCO) is calculated by subtracting the salvage/remaining value from the total cost of purchase and operation. When determining TCO, consider:
Purchase price
Running costs
Spare parts
Repair costs
Depreciation
This is important data to have, as it can validate a decision to either dispose of or replace an asset at the end of its useful life.
Why Multi-Device Configuration Leads to Successful Asset Maintenance
Asset-intensive industries that are able to deliver fast, frictionless experiences to manage their assets can achieve better asset performance through multi-device accessibility. This benefits three areas in particular:
1. Increased Productivity for Field-Based Users
A typical asset team includes scheduling engineers, maintenance engineers, contractors, auditors, reliability engineers and management executives. Each of these roles require related but different data from assets. Schedulers typically prioritise production; maintenance engineers focus on condition monitoring, and management executives focus on overall asset performance.
2. Workforces Have Access to Multiple Devices
Almost all of the asset team have at least two devices (desktop/laptop and tablet/mobile) on which they view asset data. Typically, the functional tasks on tablets/mobiles involve selecting data or viewing information on the go. Mobile and tablet users tend to be very goal-oriented—they expect to be able to get what they need from a mobile site easily and immediately, whereas on desktops and laptops, the information engagement is deeper and longer.
3. Smaller Devices Are for Specific Goal-Based Activities
Typically, ease of navigation takes priority on mobile devices and information drill down takes priority on large-screen devices, whilst asset teams today are constantly connected, moving between devices—from tablet to laptop to desktop to smartphone—throughout their day. This constant connectivity offers rich new opportunities for organisations to enhance their asset performance.
Multi-device configuration in asset performance and maintenance also opens the door to two distinct opportunities when blending mobile and desktop devices:
Leveraging Intrinsic Mobile Capabilities
A significant amount of technical communication within organisations still largely happens by email. With mobiles, users can take videos and photographs, record calls, and send messages, all of which are very relevant for driving asset performance. The opportunity to drive asset performance is enhanced by using the intrinsic functionalities of mobile devices.
Being Ready for Amplified Data
The convergence of the Industrial Internet of Things, Unmanned Asset Inspection and a Technologically-Savvy workforce will amplify data feeds to asset management software. Deploying a multi-device asset management solution will influence your organisation in managing and driving information from the high levels of data expected in the very near future.
FAQs
What Is Asset Maintenance?
Asset maintenance is a set of tasks carried on to ensure equipment, machinery, vehicles, and facility assets operate at a continuous optimal level through planned repairs and servicing.
What Is an Asset Maintenance Plan?
An asset maintenance plan is a company-wide strategic approach to how asset maintenance should be carried out. A plan will typically include what maintenance is required, when it will be done, by whom, for how long, and at what cost.
Is Asset Integrity Linked to Asset Maintenance?
Yes, a basis of asset integrity management is ensuring assets are reliable, safe, and efficiently run. This is achieved through the process of successful asset maintenance management.